The 10 Most Exciting Marvel Disneyland Attractions
The Marvel superheroes will stay at Universal for the time being, but how great would Marvel rides be at Disney?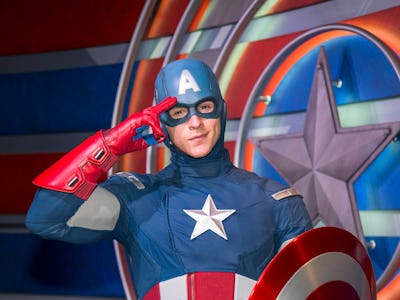 Getty
When the Walt Disney Company acquired Marvel for $4 billion in 2009, it became easy to imagine superheroes occupying real estate in Disney's globally recognized amusement parks. Unfortunately for the Mouse House, that big expenditure came with some strings attached.
Disney's direct competitor in the park business, Universal, has a lock on Marvel with branded attractions and rides east of the Mississippi, which means that Universal Studios Florida is the only place to ride a Spider-Man roller coaster. On the bright side, there's still hope for Marvel fans at Disneyland.
There are rumors that more Marvel attractions are headed to Uncle Walt's original theme park, and given the Mouse's sweet plans for Star Wars, we are excited about the prosepct of bringing the comic books to Tomorrowland. Imagineers, get at us!
S.H.I.E.L.D. Academy
A few years ago at New York Comic Con, to promote the premiere of Marvel's Agents of S.H.I.E.L.D. fans were given replica badges that declared them members of the fictional intelligence agency. How awesome would it be for a kid to have something like that at Disneyland?
Similar to the Jedi Training Academy at Disneyland, this would be an "academy" for S.H.I.E.L.D. where kids (and heck, adults too) can perform in "training simulators" that earn them a place in Marvel's superhero FBI. Hell, make it exactly like Jedi Academy and have the new recruits (kids) fight HYDRA.
Iron Man/Spider-Man VR Simulator
We're a few years away from virtual reality being commonplace. But it's not a far cry to imagine VR to let guests feel like they're Iron Man or Spider-Man, flying and swinging through city blocks. Maybe even during a Chitauri invasion?
It wouldn't be easy to make available on a mass scale, since virtual reality headsets can only accommodate one user at a time. But as a premium experience, nothing would be cooler.
Lift Thor's Hammer
Yeah, it's Sword and the Stone but who cares. Let a kid feel like he's worthy of lifting Thor's hammer. Embarrass dads who can't pull it up. This is an easy one, and something they could put in the park right now.
S.H.I.E.L.D. Helicarrier Exhibit
The airborne HQ of the Avengers (until Age of Ultron) sells itself: Let people run around that thing. Kids can play with buttons and switches while looking at a (simulated) view of the sky from the bridge. Nick Fury and Maria Hill can pose for pictures. Maybe it can have a motion segment, too, like Star Tours, which has a fun themed queue and then puts fans on a ride of a lifetime.
Spider-Man's Midtown Roller Coaster
There's a Spider-Man 3D ride at Universal that's been around since 1999, but this would be way cooler. I'm thinking of an actual roller coaster made to look like Spider-Man's webs, with scale models of New York buildings around the bends. Imagine zipping from building to building, feeling something like the velocity Spidey feels as he slings across the skyline. The drops would be terrifying.
Star Tours, But With the Hulk Smashing Into Things
Star Tours is a 3D ride through the Star Wars Universe that's at both Disneyland and Disney World. It's been refurbished and updated over the years, and it's still a favorite. Imagine a 3D ride in which S.H.I.EL.D. has to follow a rampaging Hulk hopping dimensions. That'd be a wild ride through Manhattan to Asgard to Wakanda and can shake and rumble as the big guy does.
Captain Marvel's Alpha Flight
Another roller coaster! But this one would be themed after Carol Danvers, a.k.a. Captain Marvel, who is getting her own movie in 2018. Play up Carol's Air Force background and her superhero spacefaring for a fun enclosed coaster that can go to "outer space." Her current comic series, Captain Marvel written by Tara Butters and Michele Fazekas, features her leading the new Alpha Flight following 2015's Secret Wars. How cool of a name is Alpha Flight for a coaster?
"Hell's Kitchen" Photo Ops with Daredevil, Jessica Jones, and Spider-Man
Maybe replicating gritty New York streets is a hilarious misfire, but you know kids would line-up for miles to meet Spider-Man and his other fellow New Yorkers. There's already soundstage-like areas in Disney's California Adventure, and Universal has been taking advantage of its set design heritage for years to differentiate its parks.
Stan Lee's Comic Lounge
Not an attraction, but a place to actually buy and read comics at Disney while getting a bite to eat would be a nice break from all the screaming on rides. Plus, it would give people a chance to better understand all the crazy rides they just experienced.