4 Reasons to Look Forward to 'Arrow' Season 5
One year shouldn't be the sole reason to stay away from the show that built the DC TV universe.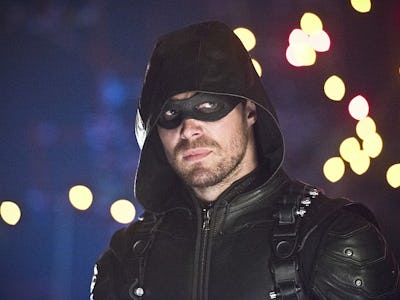 The CW
Few TV shows have the luxury that Arrow enjoys. It's the cornerstone of DC's television brand, able to adapt a deep history of comic books for televised storylines; and it airs on the CW, which demands fewer ratings than its network competitors. Arrow will continue on to a fifth season despite underwhelming its audience this past year. Still, one bad season isn't enough to quit Arrow for good. In fact, Season 5 is shaping up to be a hell of a good time.
Based on the info unveiled at July's San Diego Comic-Con – plus tidbits that have hit the web since, Arrow Season 5 is looking like a return to form, one that made the DC superhero series great in its early years. Fall TV is fast approaching, threatening to clog up your DVRs and precious free time. So here are some reasons why Arrow should still be on your binge-watch list.
1) No more magic.
Arrow originally set out to do what Smallville tried with Superman: Be grounded and rooted in real emotion. The show's first two seasons strongly echoed Christopher Nolan's Dark Knight trilogy, which produced a slavishly realistic interpretation of Batman. But by Arrow Season 3, in which Barry Allen had become the Flash, Arrow was peddling mysticism with Ra's Al Ghul, and it dove even deeper into that territory with the supernatural worshipper Damien Darhk.
It was a far cry from how Arrow started, and the showrunners recognized that a vigilante with a bow and arrow doesn't really have a place fighting Sith-esque baddies. In speaking to IGN, executive producer Wendy Mericle said Season 5 will return Arrow to its roots with a more grounded antagonist, and thus, a more grounded story.
"The show was always meant to be a gritty crime drama at its heart," said Mericle. "I think for Season 5, just because it is an answer to Season 1, and we are sort of closing this chapter out, we did want to go back to our roots and figure out what is specific to this show. What is our universe? Go back to, 'What is Arrow?'"
2) Oliver will play the mentor he should be.
In Season 2, arguably the show's finest, Stephen Amell's Oliver became a mentor to the youthful and aggressive Roy Harper (Colton Haynes), codenamed Arsenal, just like his comic book counterpart. For personal reasons Haynes departed from the series, which the showrunners made up for with Oliver's sister Thea (Willa Holland) taking up the mantle under the name Speedy, a callback to the very early Green Arrow comics.
But Thea didn't need training. Neither did anyone else in Team Arrow, like Diggle (David Ramsey) or Black Canary (Katie Cassidy). Thea was whipped into shape by her father Malcolm Merlyn, aka the Dark Archer (John Barrowman), meaning Oliver only had to call shots instead of teach and protect them from all the occupational hazards. As a result, Arrow lacked a lot of crucial stakes in Season 4. When all are mega capable, what is there to worry about?
In Season 5, Oliver is once again playing mentor to a new batch of would-be heroes: There's Curtis (Echo Kellum), destined to become Mister Terrific, as well as Wild Dog (Rick Gonzalez) and Artemis (Madison McLaughlin). Unlike Roy, who had the Mirakuru super steroid in him, or Diggle who was an ex-marine, none of these guys are properly disciplined. Oliver will be the one to truly get these zeroes into heroes, and that's an intriguing arc all on its own.
3) Oliver's mayorship will return the series to sorely missing tropes.
The best superhero stories stem from the difficult balance of living an ordinary life with one that's extraordinary. Supergirl and The Flash do this amazingly well. Arrow used to. When Oliver had to put up his billionaire playboy front in the show's early years, the action had gravity that felt important. By Season 4, when Oliver had virtually no corporate empire to take care of, Arrow suffered. Sure, there was a mayoral campaign, but that quickly went nowhere.
Season 4 did in fact end with Queen as Star City's mayor, but Amell explained in a recent interview with Zap2It that his operation was nothing more than a means to his vigilantism. As a result, the Queen administration is grossly corrupted in Season 5. That's… actually kind of interesting. Will Oliver try to fix his campaign at the risk of letting crime run rampant? Will Oliver wise up and implement city-wide programs to improve the crime rate? Probably not, but the balance between work and real work will be at least interesting to see play out.
4) If nothing else, there's that giant crossover happening.
One week this fall we'll see the Green Arrow, The Flash, Supergirl, and all the Legends of Tomorrow together in one four-part storyline. Even if Arrow Season 5 is another piece of trash, at least that will kick ass.
Arrow premieres October 5 on the CW.