A Primer on 'Arrow's New Protegé, Artemis
All you need to know about the young archer making her way in Star City this fall.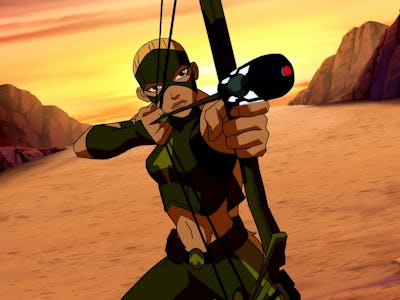 Warner Bros. Animation, ComicVine
Comic fans still mourn the cancellation of Young Justice, but its legacy lives on in the CW's Arrow – and its upcoming fifth season. Actress Madison McLaughlin will reprise her role as Evelyn Sharp, the teenaged girl who stole Black Canary's equipment in the Season 4 episode "Canary Cry" as she comes into her own as Artemis, a sidekick to the Green Arrow. Variety reports her run will begin in the second episode of Season 5.
No doubt a few of you are wondering who the hell Artemis is, so here's your brief primer: Debuting in Infinity Inc. #34 in January '87, Artemis was the daughter of the super-villain couple Tigress and Sportsmaster. Artemis grew up to continue the family tradition, donning her mother's identity Tigress joining up as a member of the Injustice Society.
In the 2011 animated series Young Justice, Artemis used her expert archery skills for the good guys, replacing a temperamental Roy Harper, aka Speedy, as a right hand woman to the Green Arrow.
In Arrow, Evelyn Sharp will don the name "Artemis" as her identity. She debuted last season, stealing the now-deceased Black Canary's costume and weapons to avenge the death of her parents at the hands of Damien Darhk. Strong-willed but undisciplined, Stephen Amell's Green Arrow will be a suitable teacher for her, if he's not already busy training the gun-toting Wild Dog.
Arrow will return for its fifth season on October 5.