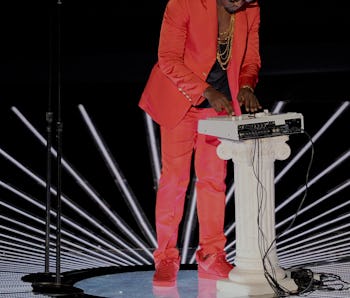 Entertainment
5 Things Kanye Will Do with His Free Reign at the VMAs
We have the answers, Sway!
Getty Images / Kevin Winter
At this year's MTV Video Music Awards, Kanye West will be given four minutes of creative freedom to do whatever he wants. According to TMZ and confirmed by Pitchfork, a source close to production for the award show stated, "Kanye will have four minutes to do with what he pleases. He can rap, sing, dance, or even just stay silent".
Kanye West has never needed permission to do what he pleases. In 2009, he made headlines by declaring Taylor Swift did not deserve to win the VMA for Best Female Video and that "Beyoncé had one of the best videos of all time". And then last year, after accepting the Video Vanguard Award, he stated that he will be running for president in 2020. So, the question remains, what remarkable thing will Kanye do or say at this year's VMA? Show producers have no idea what Kanye will do, but here are 5 things that we believe that Ye will do with his four minutes of complete, unbridled freedom.
1. Air Taylor Swift Out for the "Famous" Fiasco
Just last month, we witnessed a back and forth between Kimye and Taylor over his now controversial lyric from his VMA nominated song, "Famous". Kim pulled the pettiest move by releasing a video of Kanye having a conversation with Taylor over the lyric. Taylor is apparently not attending the award show– so if Kanye does air out Taylor, too bad she won't be there to defend herself.
2. Debut Another Song from Cruel Winter
Cruel Winter is the highly anticipated follow-up to Kanye and G.O.O.D. Music's Cruel Summer. We have already heard one amazing song from the album, "Champions". Hopefully Kanye has it in his heart to bless us with another gift from the future album.
3. Call the American Public out on its Bullshit
Say what you want about Kanye West, but he is not inept and is very aware of social injustice. Let's not forget that he called out George W. Bush on national television. Furthermore, he has brought awareness to disparities in class and race and has even brought awareness to police brutality through several songs and lyrics. Kanye is not afraid to say what is on his mind.
4. Declare Himself President of the World
Why stop at Kanye for president in 2020? Why not just take over the world? It might just become a freer and more creative world with Kanye at the helm.
5. A Product Release
Adidas recently unveiled the toddler versions of West's Yeezy Boost 350 sneakers. The rapper has become well known for his fashion shows and eclectic style of clothing. It would not be far-fetched to think that he would use the platform to display his clothing to the award show's more than 5 million viewers.
The 2016 MTV Music Video Award will air live on Sunday, August 28th at 9pm EST on MTV.