'No Man's Sky' Has Lost a Huge Chunk of Players - But Don't Worry
It doesn't necessarily spell doom and gloom.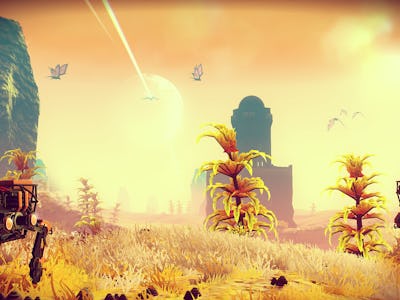 Hello Games
As previously reported, sales for Hello Games' No Man's Sky aren't looking that great two weeks in. Additionally, concurrent daily users on PC – information gathered together via SteamSpy – has sunk about 90 percent. That's a rather drastic drop, but it's also totally understandable — and maybe even meaningless.
Are the sales numbers and concurrent users a significant drop? Yes. Do they actually mean anything for the future of the game? Im not convinced. If this actually says anything, it that the hype and marketing surrounding NMS prior to release doesn't mesh with reality. Was anyone actually predicting it would continue to have over 200,000 concurrent users every single day? This isn't an MMO, after all.
The same SteamSpy data suggests that there are over 770,000 owners of No Man's Sky, the majority of which logged onto the game within the first week. This is not an uncommon trend, especially for a game with a smaller focus on aggression and combat that also lacks a true multiplayer aspect. It also doesn't factor in those playing on PlayStation 4, so it's not exactly a complete picture.
This is all to say: None of these numbers are actually indicative of No Man's Sky's quality. What they're representative of is fewer people are buying and playing the game two weeks after release. The actual takeaway? No Man's Sky isn't for everybody, and maybe it's not Call of Duty. That's okay, because not every game is.