Frank Ocean's 'Blonde' Is Now on Pandora
It is a joyous day for Pandora users.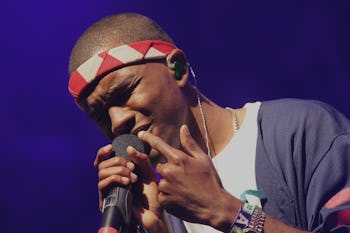 Getty Images / Karl Walter
Frank Ocean's Blonde is now available on Pandora.
The R&B singer's new album first came out on Apple Music, but Pandora users (even free accounts!) got their hands on it on Thursday. The initial release came after a string of rumors. The album is deep, introspective, and in typical Frank fashion, offers us a difference that is atypical of current, popular music.
Although the album was reportedly to remain an Apple Music exclusive for two weeks, Pandora went ahead and uploaded the album too. Frank Ocean has caught some heat for the exclusivity of the release — Universal Music Group CEO Lucian Grange even reportedly declared via an all-company memo that UMG labels should stop the practice of exclusive album releases on streaming services like Apple Music and Tidal. There has also been some talk that Frank Ocean can possibly be sued by Universal for self-releasing Blonde after fulfilling his contractual obligations with his visual album, Endless
Does the Pandora release mean that all fans can expect to have access to the album before the two week exclusivity is over? Hopefully, but with Frank Ocean, there's no telling what's going to happen.
You can stream Frank Ocean's Blonde on Apple Music and Pandora.