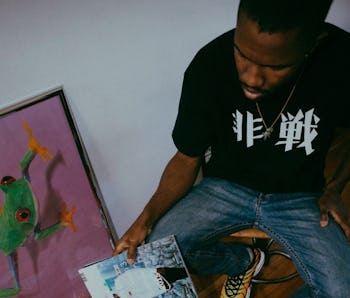 Entertainment
Frank Ocean's 'Boys Don't Cry' is Dropping in July or November
The R&B singer's website is active again after a year of silence. 
Boys Don't Cry
As America awoke this morning after its first night of of Independence Day weekend celebrations, Frank Ocean gave fans a little tease for his album Boys Don't Cry, which suggests that we'll get a bigger taste soon.
Ocean simply posted one image to his Boys Don't Cry site titled "Late". The photo is an old library card with various previously speculated due dates for the Channel Orange followup stamped on the card.
It starts with the album's original due date July 2015 scribbled out and and ends with July 2016, with the day of the month smudged. However, there's another future date stamped on the card as well — November 13, 2016.
Speculation time: Frank Ocean's brooding dark R&B doesn't lend itself well to a summer release. This month seems like a logical time to drop a single and/ or music video with the full album coming out in November. It's that, or the album really is dropping this month and the tour kicks off in November — let's hope for the latter.
That original July 2015 release came and went – and there have been several speculative due dates since then, amid reported feuds with Miguel, but nothing definitive yet. This is certainly the most solid piece of evidence fans have received in a year, since Ocean launched the website with a photo of him looking down at two versions of his album.
Most recently Frank Ocean contributed to James Blake's gorgeous new album The Colour In Anything on the tracks "My Willing Heart" and "Always."
The details are too sketchy to open your heart, let down your guard, and start planning your nights around a surprise release. But, this is progress, and fans will take anything they can get.