Miguel vs. Frank Ocean: The Beef No One Asked For But We Still Got
We discuss the petty AF tensions between R&B singers.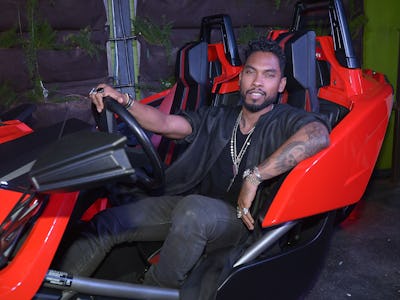 Charley Gallay, Getty Images 
Over the weekend, R&B singer Miguel came with some words towards fellow R&B singer Frank Ocean that threw people — Frank Ocean fans on Twitter — into a fit. Miguel said to The Sunday Times: "To be completely honest — and no disrespect to anyone — I genuinely believe that I make better music, all the way around." This was quickly taken to be #shots at Frank Ocean, and Miguel quickly had to backtrack from his mild comments. But the fanbases were still ready to fight this one out, so we grabbed a few writers to participate in this silly feud between R&B's biggest stars.
David Turner: Miguel came out swinging the other day saying that he felt he was better than Frank Ocean. Bold words — correct words, but certainly bold. The quotes quickly became a Twitter trending topic and all of a sudden the strange Cold War between the two singers became hot. Personally, I'll stand with #teammiguel, but the last time a singer came at Frank he killed the beef without even stepping in the booth. So right now, where do you fall in this tension, Matt?
Matthew Strauss: I'm #TeamFrank all the way. Frank's got metaphors on deck. They're mostly insane, but they work. "Pyramids" is, hands down, the best song since the day it came out, and it's a jumbled up story about a fantasy with a sex worker. Frank can do no wrong. Winston, you're our tiebreaker here.
Winston Cook-Wilson: Well, you're not going to like what I have to say, Matt, but while I do not condone Mr. Pimentel's statements, I do prefer his music, and therefore, do understand where he was coming from. I think his not-really-retraction gets at how I feel more primarily, that these two artists pretty much have nothing to do with each other, at least in terms of what I enjoy about them. Frank's music carries a certain kind of on-the-surface emotional charge and nu-R&B-pop prowess, whereas Miguel is, to me, just kind of innovating in all sorts of space age directions, and is doing some total nutty shit musically that I can hardly articulate. And there's more than enough emotion to go around just in his voice. I don't know, in a way it feels like there's no contest, but it's also like, I really wish we didn't have to have this conversation! David, why do you stand with Miguel?
DT: Singles. It's really that simple. Frank Ocean is clearly a talented musician, but Channel Orange never quite clicked for me and part of it was the lack of focus sprawl that hampers his song writing. Now of course Wildheart sees Miguel falling into a similar lane, but still when I hear "Coffee", "Adorn", "All I Want Is You" there is a basic appeal to those tracks that I never get from Frank. Now of course, maybe Frank's soon to be arriving album will be the step forward in songwriting I hope he's capable of, but for now he's still potential to me. High potential, but still just that. So, why can't you stand with the right side—the Miguel side — Matt?
MS: First, let me say that, Winston, I agree with you. I'd rather pick a favorite child (one day) than pick Frank or Miguel. There is a cruel god somewhere making us decide. So, David, against nearly anyone else, I'm firmly on the Miguel side. But in this debate, I'm all about that narrative arc that Miguel lacks compared to Mr. Ocean. Some may say sprawling. Channel Orange is nearly an hour, but cut those down into the 14 songs with lyrics (of 17), and you've got mini-stories: the loveless junkies of "Crack Rock," the bored, eager California teens of "Super Rich Kids," the hopeless lover of "Bad Religion" and the hopeful lover of "Forrest Gump." Each song paints a clearer picture than I get from Miguel songs. Miguel writes songs –- verse, chorus, verse. Frank can do that, too (check out this here Wikipedia page on songs he's written for others), but he takes more chances with his own tunes. And, if I may throw in one more Frank chip, he's a dope rapper. He steals the show on Odd Future posse cut "Oldie" with that "you'll know what I'm talking about a year from now" line about his sexuality. Any last ditch efforts to rev up the Miguel bus?
WCW: The way you're talking about Channel Orange is interesting — "mini-stories" make me think of like '70s singer-songwriters or something: John Prine or even Billy Joel (not speaking pejoratively, here). There's a heavy basis in storytelling, as well as that silky Drake heartstring-tugging that for me has exceptionally little to do with what is great about Miguel. Re: what David said — I think it's kind of a tribute to the type of artist that Miguel is that we can both talk about him as someone who can streamline potent, unforgettable singles and an album artist working at the edge of his art form, or at least synthesizing this weird composite of reference points.
I don't think Wildheart is sprawling in any kind of detrimental way; right now, it's risking being my favorite album of the year. It's held together by this compact funky crunch, which is like some extreme blown-out-subwoofer version of the way D'Angelo produced Black Messiah. Quite honestly, I'm too enamoured with all the crazy rhythmic stuff and hooks on Miguel albums to tap into or concern myself with the lyrics that much. It's just such a different tack they're taking. I think they are both, in their own way, extremely original and good at writing songs. But though I do not agree with the "Frank Ocean is boring" school of thought (do you guess recall that corner of the "conversation" from 2012?) I have rarely gotten through Channel Orange in one listen; Miguel albums I put on loop. There's such a dynamic and ever-shifting energy. I don't know, guys, I'm going on. What's up, David? Do we need to tear down this nice dude Frank some more?
DT: Nah, I think we are good to cool it here, because as Frank announced a few months ago, he's got a new project dropping in July and though Frank isn't one to gravitate towards the spotlight. I wouldn't be shocked to see a slight dig at Miguel for good measure.
MS: Alright, guys, I'll never stop stanning for Frank, but you've made some solid points. But when that Frank album drops, I'll be back – guns ablazin'. Golf Wang.