UberCHOPPER Is Back to Fly You to Music Festivals
Uber's helicopter service will transport people from Amsterdam and The Hague to the Mysteryland music festival this weekend.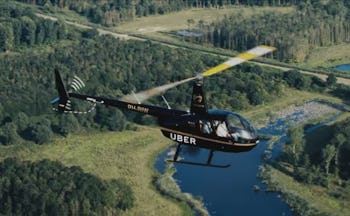 Youtube/Uber
Merely attending a music festival is no longer cool enough: you now must arrive like a Bond villain. With Holland's major electronic music festival, Mysteryland, approaching this weekend, Uber has reintroduced its helicopter service as a transportation option for those commuting from Amsterdam or The Hague to the festival grounds in Haarlemmermeer.
After you request your all-caps UberCHOPPER supplied by Heli 2 City for a chance to reserve your flight, you'll be prompted to choose between two options: "Mysteryland," if you're going to the music festival, or "city tour" if you're not attending the music festival but still want a limited-time-only tour of the city from above. A complimentary Uber will transport you to a helipad where your chopper will be waiting.
Taking a helicopter to an electronic music festival might seem too ostentatious for many, but Uber doesn't seem like the kind of company that would try something again if it didn't work the first time.
Uber offered one-way copter rides from Los Angeles to Coachella for $4,170 in April, and apparently enough flower crown-wearing free spirits took advantage of the exclusive service to make it a promising revenue stream. With rides to Mysteryland costing about 95 percent less than chopper rides to Coachella, though, it's tempting to skip that commuter traffic and head straight to the dance floor via chopper. Let's just hope Mysteryland isn't 95 percent less cool than Coachella.
According to the Uber official, UberCHOPPER will be available on Saturday and Sunday August 27 and 28 between noon and 8 p.m. If you haven't settled your traffic plans by then, you won't have a chance to get to the choppa.