Only Daredevil, Iron Fist Will Fight in Costume in 'Defenders'
Jessia Jones just isn't Jewel anymore, guys.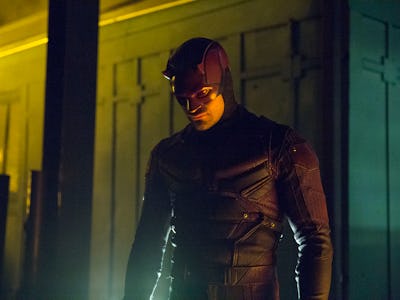 Netflix
When Marvel's 'Defenders' take the streets in 2017, Daredevil and Iron Fist will be a little bit overdressed. Luke Cage and Jessica Jones will be taking on the Defender's enemies in regular old street clothes — because they're both too cool for costumes.
Daredevil Star Charlie Cox announced at a Wizard World Chicago panel over the weekend that only his Red Devil and Finn Jones's Danny Rand (aka Iron Fist) would be suiting up in Marvel and Netflix's new super-team series. The new 'Defenders' — Jessica Jones, Luke Cage, Daredevil, and Iron Fist — will battle for the future of New York City, but Jones and Cage will do it in street clothes. Unfortunately for Marvel fans who are into the cosplay side of things, we won't get a Jewel outfit for Jessica Jones, or Luke Cage's signature silver tiara (seriously).
To be fair, this isn't much of a surprise. Luke Cage has a "costume," but it's usually a tight t-shirt and jeans. Sometimes he's got a tiara, but he's ditched that in modern comics. Meanwhile, Jessica Jones had a costume (the series referenced her old Jewel outfit), but as a hard-drinking P.I. she's given up that life, and isn't the kind of person to wear spandex. She's quite comfortable in distressed jeans and a leather jacket. It's too cold in Hell's Kitchen.
Cox also mentioned the age difference between his Matt Murdock and Finn Jones's Danny Rand, who is the youngest of The Defenders characters at about 25. It's possible that Iron Fist is compensating for being the baby of the team with a bad-ass get up, although we can't see that impressing Jessica Jones very much.
Marvel's The Defenders premieres on Netflix in 2017.