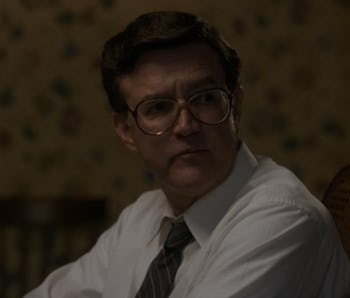 Entertainment
New GIF Reminds Us the 'Stranger Things' Dad Still Exists
Netflix
Netflix's Stranger Things is filled to the brim with memorable '80s-tinged characters — but one man is often overlooked. In all the hype for the pitch-perfect cast of every-kid Mike Wheeler, bald telekinetic runaway Eleven, or even toothless charmer Dustin, Wheeler's neglectful, chicken-loving father often gets forgotten. But not anymore. Ted Wheeler's still here, and his dinner is getting cold, so will you please look at this GIF and remember his name?
Netflix just released a hilarious GIF via the Stranger Things page on Facebook to remind us that he's probably still out there in Hawkins eating dinner, clueless about the inter-dimensional monster terrorizing his kids and everyone else in the town.
While seemingly meaningless to the story, Mr. Wheeler (whose name might never be actually uttered in the show) did serve a very appropriate purpose. The Netflix series borrows heavily from Steven Spielberg's movies, which often contain largely absent, inattentive fathers who are clueless to the monumental changes in the lives of their kids.
In this case, Ted represents a truly Spielbergian father character since he's too oblivious to realize his son is hiding a girl who used to be the subject of secret government experiments and his daughter is sneaking out with the black sheep of the town to fight a faceless and grotesque thing called the Demogorgon that also kidnapped his son's best friend.
Most of the comments on the Facebook page agree that Ted leaves a lot to be desired in the fatherhood category:
"Ted was basically a waste of oxygen, I know this because this post is how I learned his name. I don't even know his wife's name and she actually played an important part," said one commenter.
"He was a pointless character in it … though I liked him!" said another.
Yet another person made this curiously truthful comment: "This was my goddamn Dad, sitting on the La-Z-boy in sweat pants every weekend, totally oblivious to the world. He must have gained 40 pounds in the '80s alone. I was running around town on my bike, skipping meals, getting into trouble."
It seems Ted Wheeler has struck a cord with viewers, but is it enough to make him into the internet's favorite meme just like Barb? Only time will tell.
We hope you're enjoying your chicken, Ted.