Frank Ocean's "Blonde" is About Taking Shrooms at Caltech
Got free? Got high? Same diff.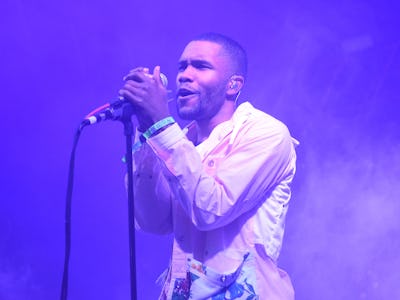 Getty Images / Jason Merritt
Frank Ocean drew inspiration for his long-awaited album Blond from a lot of places — like the time he took shrooms at Caltech and thought his manager's car was breathing.
After over four years of waiting, pining and wondering whether Frank Ocean could possibly have disappeared from the planet altogether, fans were rewarded at last over the weekend with the release of Blond, visual album Endless and companion zine Boys Dont Cry in one fell swoop. So what took so long?
Ocean thanked fans for being so patient in a series of Tumblr notes lined up with his truckload of artistic releases, and while he didn't give a distinct reason as to why the production of Blond etc. extended nearly half a decade. But he did provide a potential hint: a lot of drugs in Pasadena. Or, as Ocean more artfully describes it, he "got free." The musician described an experience he had on mushrooms while working on his music at Caltech, and how it influenced everything from the cover of his album to the material within it:
"The first time I did shrooms, my manager had to come rescue me from Caltech's 'Trip day' As I got into her car, I swear to Gd the aluminum center console in her Porsche truck looked like it was breathing, like the throat of something. On the freeway, leaving Pasadena, we spoke and I looked away, outside, at the wheels and tires of car doing that optical illusion thing they do where it looks like they're spinning backwards which, according to Google, happens because our brains are assuming something completely wrong and showing it to us."
I'm slowly nodding my head with my eyes bulging in an attempt to pretend that I like, totally get it. Sure, Frank, we've all had a weird trip, but we're not all able to turn it into musical dynamite. Ocean continued in a Tumblr post, an excerpt from the Boys Don't Cry zine, and explained the story behind the cover art of Blond:
"Two years ago I found an image of a kid with her hands covering her face. A seatbelt reached across her torso, riding up her neck and a mop of blonde hair stayed swept, for the moment, behind her ears. Her eyes seemed clear and calm but not blank, the road behind her seemed the same. I put myself in her seat then I played it all out in my head. The claustrophobia hits as the seatbelt tightens, preventing me from even leaning forward in my seat. the pressing on internal organs. I lean back and forward to release it. Then backwards and forward again. There it is—I got free. How much of my life has happened inside of a car? I wonder if the odds are that Ill die in one. Knock on wood-grain."
The eventual image used on the cover is Ocean's rendition complete with green hair — it's the source photo on a trip. Blonde has already garnered some well-deserved glowing reviews, and with more famous collaborators than a Gary Marshall holiday movie, it sounds like the acid and the trip in his manager's truck was in the best interest of the musician's legacy, if a little too relatable to college freshmen failing every class that starts before 10 a.m.
Hey, if a weird shrooms trip finally got us a new Frank Ocean album, we'll take it.