What to Expect at Sony's September PS4 Neo Event
Spoiler: There's probably gonna be a new PS4.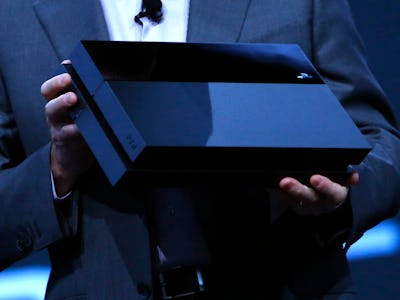 Getty Images / Eric Thayer
Sony's got a big event coming up in New York. Two weeks from now, on September 7, the company will take to the stage at the aptly named PlayStation Theater and reveal … what, exactly? Sony's remaining tight-lipped, but with rumors and leaks abuzz, pundits have a fair idea of what might be on the cards.
The pressure's on for Sony. Microsoft has just launched the Xbox One S, announced plans for another console next year, and revealed a killer lineup for the holiday season. Here's how the PlayStation maker might counteract.
Playstation 4 "Neo"
That's probably not going to be its actual name. The console code-named "Neo" is expected to be unveiled as a mid-cycle upgrade to the existing PS4. This is new territory for the gaming industry, and a strategy Microsoft is also pursuing with its "Project Scorpio."
The thought at current is that the "Neo" will have much stronger hardware. Leaked specs indicate that we may see 4.1 teraflops, compared to the current PS4's 1 teraflop. That extra power would be used to power better graphics, giving developers more scope to realize their ideas.
However, the "Neo" will most likely not see any exclusive games. Developers will reportedly be able to make PS4 games with a special "Neo" mode, but they'll be barred from making games that don't run on existing PS4s. The same is true even with Playstation VR: All VR games will run on both PS4 and "Neo."
The console will likely appeal to those looking to get the latest and greatest graphics, but what'll be interesting to see is how Sony will introduce a console that plays exactly the same games as its predecessor. It's a big moment for the industry, one that could set a precedent for generations to come.
Playstation 4 "Slim"
New leaks appear to confirm a slim version of the PS4 is also on the way. We've seen it unboxed, we've seen it supposedly powering up, we've even seen its new controller with a light-emitting slit facing the player. Officially, it doesn't exist, but let's be honest: It would be one of the biggest shocks in PlayStation history if it's not real.
The leaked slim model trims a lot of the original's thickness and ditches the light strip for a small LED on its new power button located by the slot-loading disc drive. The removable hard drive bay has been retained, so although leaked models indicate a 500GB base storage size, it'll be simple to switch it out for something meatier.
Leaks also indicate a couple other missing features. For one, the optical port is nowhere to be seen, which may cause issues for those with high-end surround sound headsets. Another is that faceplates, available in multiple colors, look like they won't work with this model. Sony has a tradition of releasing a slim model part way through its console's life, and normally these versions do drop one or two features. It'll be interesting to see how Sony introduces a thinner PS4 at the same time as an upgraded "Neo" console — without underselling the slim model, that is.
Playstation VR
Now this we know is coming. On October 13, Playstation VR will launch for $399. The virtual reality headset is essentially a new platform, complete with a solid launch lineup and developers queuing to show off upcoming titles. It's possible that Sony will take the opportunity to show some more gameplay footage, and if the "Neo" brings graphical improvements to the VR, we may see some comparison footage.
Holiday games lineup
Sony has a lot of titles to be excited about, and with the press' eyes on the stage, it may show off some of the titles slated for the forthcoming holiday season. Final Fantasy XV, The Last Guardian, Gran Turismo Sport, and Battlefield 1 are just some of the big names coming to PS4 this year. Expect lots of footage, maybe some new trailers, and definitely a whole lot of hype.