The Leaked PlayStation 4 "Slim" Is Weird and Unprecedented
Sony's redesigned PlayStation 4 console looks half the size of the current model.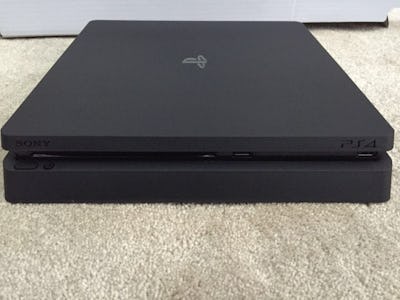 Unknown sellers on the internet made an unprecedented breach today when they got their hands on an unannounced PlayStation 4 console. The "Slim" PS4 model was briefly put up for sale online before being removed entirely, but not before it was too late.
It should be noted that while games, films, and music albums leak to the public before release, consoles have typically been kept safely under wraps. This goes doubly for consoles which haven't even been announced yet, like the supposed PlayStation 4 "Slim" seen here. It is unknown how exactly the seller acquired the console.
Earlier today, a series of images depicting the slimmer PS4 console showed up on the online marketplace Gumtree (the listing has since been removed), and appeared to depict the European model of the unreleased console. It's unclear just how early these leaks are, considering that the PS4 Slim hasn't even been announced yet by Sony. There are no details as to how the seller acquired the model, but users on Twitter who purchased the machine are vouching that it was indeed real.
Video game hardware makers such as Sony and Microsoft typically release a redesigned console a few years after their launch console ships. Both the Xbox 360 and the Playstation 3 saw slimmer, more compact redesigns following the launch of their bulkier predecessors. Earlier this month Microsoft released the Xbox One S, a much slimmer version of their rather hefty Xbox One console. The PS4 "Slim" makes sense then as a response to Microsoft's redesigned console. Gamers could probably have guessed at the Slim's existence from previous console generations, but the leak is still a major anomaly.
Sony was planning a press event for September 7, 2016, where the company was presumed to detail their next console, the PlayStation "Neo." One can assume by this leak that the "Slim" would have also been announced, and since the console found itself fully packaged, could presumably have launched the day it was announced. While details about supposed new consoles are "leaked" all the time, full consoles don't usually leak onto the digital marketplace like this. However this console managed to slip through the cracks, it shows a severe oversight on multiple parties.
This console should not be confused with the already announced PS4 "Neo", which will be an improvement upon the existing PS4 console. The "Slim" model depicted here appears to merely be an eco-conscious redesign meant to offer a smaller alternative to the existing PS4 model, though that is currently unconfirmed.
Sony has yet to comment on the leaked images. Inverse reached out to the seller(s) but received no response.