Frank Ocean Releases New Album 'Blonde,' Here's How to Listen
It's here, it's a swerve, this is not a drill.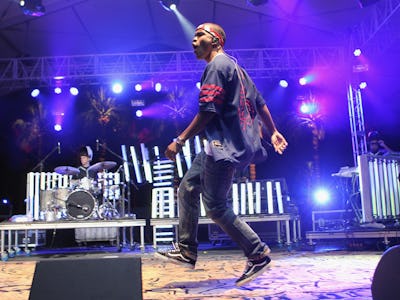 Getty Images / Karl Walter
The wait is over. For the first time since 2012's Channel Orange blazed through the charts and Grammy awards alike, R&B wunderkind Frank Ocean released a full album. It's called Blonde, and so far, it sounds like it was worth the wait.
We got our first look at the album this morning, when Ocean released the music video to "Nikes," the album's opening track. "Nikes" was a NSFW, glittery, sexy, but darkly emotive window into the new album. Ocean has been playing a game of cat and mouse with his fans for the past few weeks — first teasing a new album called "Boys Don't Cry." Then Ocean started a mysterious livestream, which mostly showed him building a spiral staircase in an empty warehouse. That project became Endless, a visual album Ocean released on Thursday night. But we all knew that a traditional album was coming, and it's here. Blonde is now available for purchase or streaming on iTunes here.
The album cover is a striking photo of a black man covering his face with his hands, with his hair dyed green. We already knew Ocean's album would be political, subversive, and revolutionary, but his title alone suggests that Ocean is bucking societal norms — "blonde" typically refers to a woman with blonde hair, whereas "blond" is used for men. Ocean's video for "Nikes" earlier today already subverted gender roles in much of its surrealist imagery, and Blonde appears to have plenty more challenging hits up its sleeve. For now, all we can do is listen.