Frank Ocean's Glittery, Political "Nikes" Video is Peak 2016
It's all going to be worth the wait, guys.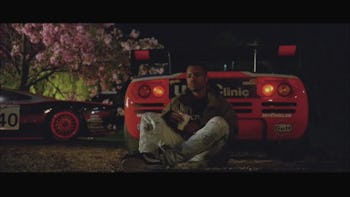 Frank Ocean
Frank Ocean has taken his fans on a roller coast ride of anticipation and emotions over the past few weeks, but if the new music video for "Nikes" is any indication, it's all going to pay off.
On Thursday night, Ocean released Endless, a 45-minute visual album, after several weeks of teasing an audio album called Boys Don't Cry. It turns out Endless was just the beginning, because this morning Frank blessed us all with a technicolor, glittery, political music video for "Nikes," and it's everything that you need to describe 2016.
The video is a dark, surreal ride through the hedonism and heartbreak of 2016. Frank's mumbled, subtle lyrics evoke and subvert religious themes while the visuals blend surrealism, sex appeal, and menace. It's weird, it's sexy, and it's political — at one point, Ocean sings "RIP Trayvon," referring to the 2012 shooting of Trayvon Martin, "I think he looked just like me."
Ocean also plays with gender and sexual ambiguity, weaving together men and women, experimenting with androgyny, race, and capitalism all at once.
On a lighter note, the video also gives us the best glittery-butts scene in recent memory. What's not to like?
Ocean's new video is currently out exclusively on Apple music. You can watch it here.