Kenneth Choi's 'Spider-Man' Role Rooted in 'Captain America'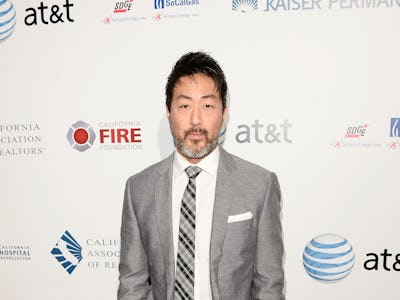 Getty Images / Matt Winkelmeyer
Marvel and Sony are joining forces to bring another reboot of the world-famous web slinger to the big screen with 2017's Spider-Man: Homecoming starring Tom Holland. While some of the cast have yet to be formally identified, a handful have just been unofficially confirmed, including Kenneth Choi as "Principal Morita" in the film. Choi is presumably playing a descent of his previous Marvel role, Jim Morita, one of the Howling Commandos from 2011's Captain America: The First Avenger.
A now-deleted tweet from Thursday evening from Atlanta Filming, which covers Atlanta film and TV shoots, had the call sheet for Homecoming that identified several of the cast, including Bokeem Woodbine as Shocker (#2?), Hannibal Burress as Coach Wilson, Martin Starr as Mr. Harrington, Angourie Rice as Daily Bugle's Betty Brandt, and Orange Is the New Black star Selenis Levya as "Ms. Warren," whose surname bears similarity to Spidey villain Jackal. And yes, Zendaya is on the list, but her name is still "Michelle" and not Mary-Jane Watson, though "Michelle" could be a code name.
Also, Michael Barbieri is not playing Ganke Lee but possibly Jacob Batalon (who appeared at Comic-Con alongside his Homecoming co-stars), who is playing Ned Leeds. In the comics, Ned becomes the super-villain Hobgoblin.
But Kenneth Choi! Though he had just a supporting role in The First Avenger, he was notably one of the famous Howling Commandos who helped Captain America in his campaigns throughout Germany during World War II. Choi's Jim Morita was the "funny" one, atypical of what Asian characters often portray in ensemble stories. While the specific relation between Choi's characters are unknown, it's a another great another example of the connections the Marvel movies have within its expansive universe.
While the original Atlanta Filming tweet is deleted, the call sheet picture has been archived on Imgur.
Spider-Man: Homecoming arrives in theaters July 7, 2017.