Zendaya Will Play Mary Jane Watson in 'Spider-Man: Homecoming'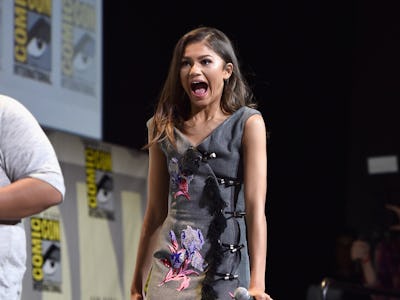 Getty Images / Alberto E. Rodriguez
Foror next summer's Spider-Man: Homecoming, the sixth film (and second reboot) of the i web-slinging superhero, Marvel producers have found their Mary Jane Watson: 19-year old actress and singer Zendaya Coleman, star of the Disney Channel sitcom Shake It Up and K.C. Undercover.
As the primary love interest of a teenage Peter Parker (who is secretly Spider-Man, for any of you who might somehow not know this), played by British actor Tom Holland in the upcoming film, Zendaya will take on the role previously played by Kristen Dunst in Sam Raimi's original 2002-2007 film trilogy, which starred Tobey Maguire as Parker/Spider-Man.
Although it was originally believed that Zendaya might be playing a character named Michelle back in March (with fanboys suggesting that perhaps the character was that of Michele Gonzales, a criminal defense attorney who briefly dates Peter Parker), sources close to Spider-Man: Homecoming recently revealed that Zendaya would be playing none other than Spider-Man's main attraction, Mary Jane.
This is a big move for Marvel, after missing what many believed to be a great opportunity to cast an actor of color to play Spider-Man. After all, in the Ultimate Marvel comics (spoiler alert), the mantle of the famous webslinger is taken up by Miles Morales, a Black Hispanic teenager, after the death of Peter Parker. Zendaya's casting is a good step forward — and one that we hope encourages the involvement of additional great actors and actresses of diversity.