The Making of the 'Jessica Jones' Opening Titles Is Trippy As Hell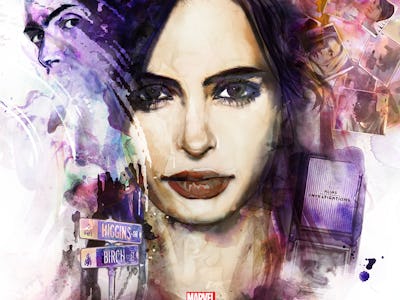 Netflix
Easily one of the best shows Marvel Studios has produced, Jessica Jones starring Krysten Ritter and David Tennant had a very vibrant and moody opening title sequence. With piano jazz scoring shadowy watercolors, the Jessica Jones titles screamed underbelly of New York in ways even Daredevil didn't.
The geniuses behind the title are Imaginary Forces, the Emmy-winning studio behind other spectacular opening credits for shows like Mad Men, Stranger Things, Black Sails, Underground, and about a hundred commercials for MTV and SXSW. In what they call a "celebration" for the 2017 Emmy voting opening today, Imaginary Forces unveiled a minute-long montage to the making of the Jessica Jones titles and how it came to life. Though there is no narrator or talking heads to spell out the process, you can see it was all a giant mix of real paint, CGI, and live-action actors layered into beautiful and messy ballet.
It actually makes sense these guys didn't bother to explain anything. They specialize in communicating without words, after all.