The Butt-Shaped Airlander 10 Takes Its Maiden Flight
After months of anticipation, the Airlander 10 lifted off for its first flight.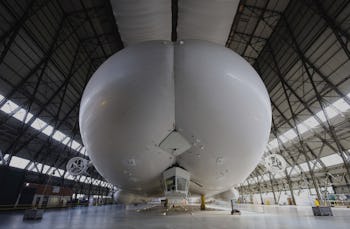 Chris Radburn/PA via AP
The Airlander 10, the world's largest aircraft, has taken its maiden flight, sending humankind's biggest butt-shaped flying object into the sky.
While it may not have been in the plans for the Airlander 10 to make the (butt-shaped) impression it has, the publicity has at least been pretty great. The airship is a hybrid craft combining elements from a blimp, helicopter, airplane, and human posterior, making it the first of its kind in design and concept completion. While the idea of passenger blimps making a huge comeback might be a stretch, the sense of nostalgia for a time that few of us have ever experienced still holds true — and creating an alternative method of air travel with that in mind brought the Airlander to life.
With the partial goal of replacing cargo planes first, the Airlander's initial take-off over the UK today marked the start of something new. The event happened at (and eventually over) the Cardington airfield, located about 45 miles north of London.
Developed by a company called Hybrid Air Vehicles, the Airlander 10 boasts the ability to carry more cargo while using less fuel. In fact, it can hold up to 22,050 pounds of weight (whether cargo or human) and is designed to reach heights of 16,000 feet while traveling up to 90 miles per hour. Hybrid Air Vehicles' Chief Executive, Stephen McGlennan, has high hopes after today's test run. "It's a great British innovation," he said. "It's a combination of an aircraft that has parts of normal fixed-wing aircraft, it's got helicopter, it's got airship."
Despite being developed for the U.S. military, HAV expects the airship to exist for both military and civilian use — for the right price, of course. To assist with their hefty goals, the company plans on creating another version of the airship by the early 2020s that can carry a total of 10,000 pounds during flight. While the idea of cruising to a faraway destination on an airship might sound fun, it'll be a while before the average Joe gets a price range from the company.