Airlander 10: Massive UK Airship Will Fly for the First Time This Year
What will the airship's final purpose be? We don't know. But it's huge!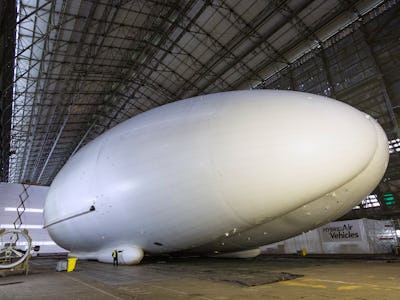 Oli Scarff/Getty Images
The Airlander 10 — which, at 302 feet, is the longest aircraft around — garnered a not-insignificant amount of attention on Tuesday when journalists got a peek at the massive helium-filled airship.
While the aircraft's final purpose is unknown, it certainly boasts a lot of impressive stats and technology. It's 85 feet tall and holds 1.3 million cubic feet of helium which allows it to stay afloat for up to five days while in operation or more than two weeks unmanned. Combining the helium with fixed-wing and helicopter technology, its maker, the British company Hybrid Air Vehicles, tells Inverse it's not only one of the most energy efficient, safe (it's bulletproof), and relatively inexpensive forms of flight, but it's also one of the most versatile, claiming it can land on any terrain due to its ability to hover. After it completes ground testing, it will embark on its first flight.
All those dreamy stats plus its sheer size made for an excellent recipe for a media frenzy this week as the aircraft made its debut. Chris Daniels, head of partnerships at HAV, was surprised but prepared.
There's been a "steady drum beat of media" ever since the company's public launch in February 2014, Daniels tells Inverse.
"Particularly in aviation, the emissions problem is getting worse," Daniels says. "There are simply more aircraft, especially in Asia, so the overall carbon emissions results from aircraft are going up. The time has come for low-carbon everything, but particularly low-carbon aircraft."
The U.S. military once thought the craft's extended airtime would make it ideal for communications and surveillance, and it still might for research missions such as studying whale migratory patterns for extended periods of time, but now HAV has other plans for it as well.
"We've been very fortunate," Daniels says. "To have privately funded the research and development phase of our program would have been enormously expensive and taken a long time for our shareholders to recoup."
It's been an odd transition for the team to go from covert military project to the "next greatest thing" in commercial airspace. When companies make that transition there's typically a renewed pressure to give the product a specific niche, but Daniels says HAV is approaching it like the early days of the smart phone.
"Nobody will realize just how useful it is until they start using it and then they'll just be wanting to use it for more and more different things," Daniels says.
"We will not be offering a service to get from A to B as quickly as possible," Daniels told the BBC. "We will not compete with a 747 flying across the Atlantic, but we can offer the ultimate flight experience for tourism and leisure purposes."
Airlander 10 could be good at lifting and transporting heavy machinery and parts to remote construction sites, facilitating academic research, or just providing wealthy consumers a sort of air cruise through the sky.
"I'm extremely excited and looking forward to taking Airlander on what I'm sure will be a very successful First Flight," said Chief Test Pilot, David Burns in a press statement issued today. While there's no set date for first flight, it does have a route: from and to Cardington Airfield, near Bedford.
HAV is still unsure of what the vehicle's eventual purpose will be and will be largely driven by demand. But with no other real players making floating airships, HAV looks to lead in this space, which it claims is a $50 billion market.
"We're keeping it completely open," Daniels says. "At the moment we just want to be a manufacturer, but it may be that we start operating them because we're the only people at the moment that really know how to operate these things, it may be that we're the maintenance and it may be that we're also the pilot training organization. We're training a new industry, so we're going to have to address all those things."