George Takei One-Ups Sulu By Experiencing Zero Gravity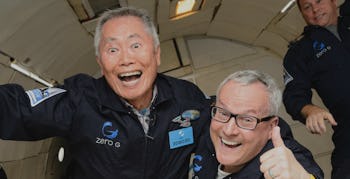 Al Powers (Kirvin Dovak Communications)
Beloved actor George Takei just did something his space-faring Star Trek alter ego Mr. Sulu never could: experience zero gravity. Today, in a collaboration between the weightless flight provider The Zero Gravity Corporation and Roddenberry Adventures; George Takei, his husband Brad Altman, and Rod Roddenberry experienced "zero gravity" aboard a special commercial aircraft which achieves an altitude that simulates weightless free fall. They were joined by 20 fans who each paid $6500 bucks to join the crew. "We are so happy we could celebrate [the 50th anniversary of Star Trek] with George and his fans," said Terese Brewster, President and COO of ZERO-G.
Rod Roddenberry, is of course, the son of Star Trek creator Gene Roddenberry, and has been a prominent figure in promoting the positive humanitarian ideals in Star Trek. His 2011 documentary Trek Nation set the standard for a visual exploration into the fandom his father created. Roddenberry Adventures is billed as an "adventure club" which is "imbedded with the philosophies of Star Trek," which right now includes scuba diving trips and a big Star Trek convention in Hawaii.
Save for very rare exceptions (episodes of Enterprise, Star Trek VI, Star Trek: First Contact) the Star Trek characters seldom experience zero gravity or near-weightless "free fall" since they're overwhelmingly reliant upon their artificial gravity. This means George Takei has now officially experienced something closer to legit space travel than any of the other lead actors who have appeared on Star Trek. How will William Shatner cope? Will he asked to be launched into a Black Hole?
For now, George Takei has continued to take things even farther than Sulu ever could. Too bad he didn't take of his shirt and fence with anyone in zero g.