Editing on Rian Johnson's 'Star Wars: Episode VIII' Has Begun!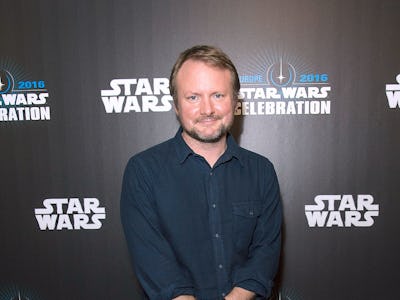 Getty Images / Ben A. Pruchnie
The production of blockbuster filmmaking used to be relegated to trade papers and fan magazines – but the ability for creators to simply send out a tweet or post photos on Instagram has changed all that. Case in point: writer/director Rian Johnson, whose Instagram pics wouldn't reflect the unbelievable scrutiny he's under to deliver a satisfying eighth episode of the ongoing Star Wars saga. But a new photo he just posted shows that things are coming along quite nicely, and post production on the highly anticipated movie is underway.
Johnson has previously posted cryptic updates about the production of Star Wars: Episode VIII before, mostly on his personal Tumblr page, which have dropped some hints about what to expect in his middle chapter of the sequel trilogy. While the latest photo doesn't spoil anything in particular — like who Rey's parents are and just what exactly is up with Snoke's face — it does mean that we'll get to see footage from Episode VIII soon enough.
Here's the photo below:
The photo he posted is of the movie's editor Bob Ducsay — who previously worked with Johnson on films like Looper and Rogue One director Gareth Edwards on his 2014 version of Godzilla — with the caption, "Day one!" referring to the first day of post-production editing. It's a big day in any movie, let alone a Star Wars movie, and it means that there are only a few more steps in the production after principal photography wrapped in July.
On top of the editing, composer John Williams recently signed on to start scoring Episode VIII in a few weeks.
Based on his previous Instagram photos, it seems Johnson took a much needed vacation, so here's hoping that Johnson is re-energized for the editing sessions and they go smooth enough to prevent any major reshoots à la Rogue One.
Johnson and Ducsay have more than enough time. Episode VIII is scheduled to hit theaters on December 15, 2017.