5 Cool Things Happening at Intel's Developer Forum This Week
Intel inside, well, everything.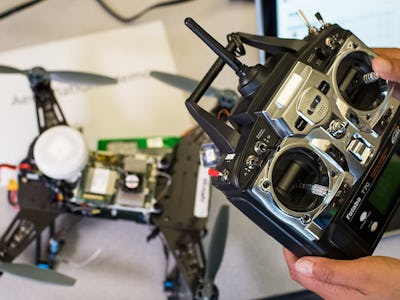 Intel wants its processors to power the world, and it's going to get one step closer to achieving that goal at Intel Developer Forum 16 in San Francisco this week.
Here's what to expect from IDF 16:
Intel's virtual reality headset, Project Alloy
Revealed on Tuesday by Intel chief executive Brian Krzanich, Project Alloy is the company's foray into the virtual reality market. The device has all of the components necessary to function without any attachments, which means that unlike most of its competition, it won't have to be connected to a more powerful computer to function. Project Alloy will also combine virtual reality with augmented reality, as seen here:
Sure, it's no fart smelling headset with a South Park connection, but if Project Alloy can deliver on its promises it'll still be interesting.
Intel's efforts to power the Internet of Things.
In the future, everything will have an embedded processor; Intel wants to make sure it's the one making them. Much of IDF 16 will be devoted to explaining how developers can make connected devices — with Intel's processors and other technologies inside of them, of course — that won't disappoint consumers.
That shouldn't be too hard — the Internet of Things doesn't yet live up to most people's expectations.
Intel's attempts to fly with consumer drones.
Intel wants to be part of the booming consumer drone market. That's why it's developed a new platform to make it easier for people to develop software that can make drones even better than they are now.
Drones are becoming ever more popular with consumers, thanks in no small part to the White House's efforts to popularize the tools and new Star Wars drones, and the Aero Platform gives Intel a chance to ride those quadcopters to success.
Intel's continued interest in artificial intelligence.
You know what takes a lot of computing power? Artificial intelligence. As these systems get smarter and smarter, they're going to need more and more power. Intel's job is to provide the tools needed to power these smart systems.
While some groups focus on solving problems with AI — that's what Elon Musk's Open AI project is doing — others have to focus on making sure these systems are intelligent instead of doltish. And, as more companies work on AI, powerful processing becomes more important. Intel's gonna ride the road to SkyNet until the machines finally take over and money becomes irrelevant.
Intel's commitment to making gamers happy.
This one is a bit of a "gimme" category. I'm not even sure people can still buy a modern computer that doesn't come with an Intel processor inside. But that doesn't mean that Intel is above touting its power and pandering to gamers, which is exactly what the company did when it played Overwatch on stage:
It just goes to show that even if the future is all virtual reality, connected devices, drones, and artificial intelligence, people are still going to want to know if their computer is capable of running a popular game. Some things just never change.