Anthony Weiner Says He's Strong Like a Mongoose, but Is He?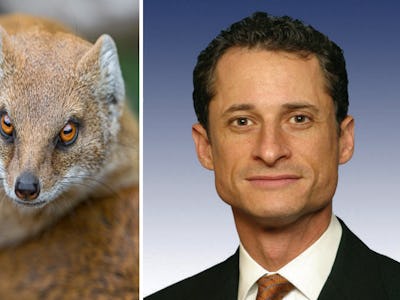 Wikimedia Commons/Flickr
Anthony Weiner is trying to exert some animal magnetism.
Per the New York Post, the former United States representative is back on that sexting train:
"Sext fiend Anthony Weiner boasted of his animal prowess — claiming he was "deceptively strong . . . like a mongoose" — and gave his cellphone number to a college student during a flirty, private online chat on a recent trip to Los Angeles, The Post has learned."
In what began as Twitter direct messages, Weiner "repeatedly refers to himself as a mongoose during the conversation and even posts a mongoose 'selfie'" to a self-described "Cali girl" that actually turned to be a male college-age Republican who was catfishing, as the kids these days do. Weiner confirmed to The Post by email that this conversation did happen but that he knew he was being catfished the whole time. Sure.
Weiner gifted us a gem in the midst of being catfished: "I can confirm that I am indeed deceptively strong like a mongoose."
Which got us wondering: Is the notoriously scrappy former congressmen indeed "deceptively strong like a mongoose?"
Our scientific investigation requires us to first consider the definition of strength. Are mongooses, in fact, strong? Small carnivores that typically weigh three to five pounds, mongooses are critters that thrive due their speed and agility. They eat eggs, fruits, and sometimes — ironically! — catfish.
But they also casually fight and consume cobras. A mongoose will exhaust the cobra with lightning fast reflexes, seize the cobras head in its jaws, then crush its skull: They "Rikki-Tikki-Tavi" that shit. Mongooses also benefit from an evolutionary adaption that prohibits cobra neurotoxins from binding to their acetylcholine receptors.
Oh and their claws never retract.
Even lions are like Uh, I would rather not, thanks bye.
But alas, Weiner is wrong. Mongooses are not deceptively strong. Instead, they are deceptively (and successfully) combative — pivoting and twisting their way to victory. But Weiner is quite like a mongoose, pugnacious and persistent, willing to go for the cobra (read: wants to be mayor of New York City) despite the venom (read: sexting scandals) that stands in the way.