Tim Cook Thinks About His Own Death at Least Once a Year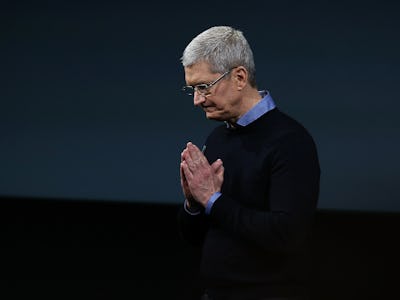 Getty Images / Justin Sullivan
Apple CEO Tim Cook is ready to die. Well, not exactly: he's just prudent, as his position at the world's biggest tech company requires, and so he prepares for all contingencies. Even sudden death.
"At the end of every board meeting," he told the Washington Post's Jena McGregor, "I discuss succession with the board because I might step off the wrong curb or something." Every board meeting! These meetings take place at least once per year. In other words, there's a moment in each of these meetings at which Cook stops, then brings up what would happen if he were to die.
To be fair, the practice is just good business. Back in medieval times, the succession of power was pretty straightforward: if you had the king's blood in you, you were eligible to rule (this did get complicated at times, because a lot of people had king's blood). Nowadays, most leaders tend to shy away from direct nepotism, especially within immense corporations. Cook needs to declare his successor each year, and his board needs to know his decision.
When Steve Jobs gave Cook the keys to the Apple spaceship, Cook looked forward to a gradual learning curve under Jobs's wing. Jobs, when passing on the duty, wrote to his employees: "I have always said if there ever came a day when I could no longer meet my duties and expectations as Apple's CEO, I would be the first to let you know. Unfortunately, that day has come."
Jobs had been fighting pancreatic cancer for almost a decade, and Cook found comfort in Jobs's consistent resilience. "When I first took the job as CEO, I actually thought that Steve would be here for a long time," Cook told McGregor. "I had convinced myself that he would bounce, because he always did." Instead — just 42 days later — Jobs passed away. (His last words, according to his sister, were at once eerie and intriguing: "OH WOW. OH WOW. OH WOW.") Cook told the Post that the day Jobs passed was "the worst day ever."
And so Cook, despite the morbidity, wants to be prepared himself.
What would happen if Tim Cook were to die? Cook implied that the hire would come from within Apple's own ranks. "…My role is to make sure that the board has great candidates to pick from internally. And I take that role extremely seriously," he explained. "Look around at the great people I get to work with — there's some really just superb talent in the company."
He gave some life advice, too, which applies here — and which the next CEO, whoever that may be, could learn from. He surrounds himself with people who can see the things his disposition precludes him from seeing:
"You have to recognize that you have blind spots. We all do. Blind spots move, and you want to not just have really bright people around you, but people who will push on you and people to bring out the best in you. People that amplify whatever you're good at. And then also the people who plug the parts that you're not and may never be."
Given Apple's longstanding commitment to its customers' privacy, and Cook's promise to keep it that way, we can rest assured that he will pick well.