World Economic Forum: Most Banks Will Use Blockchain by 2017
The tech behind bitcoin could change the financial industry.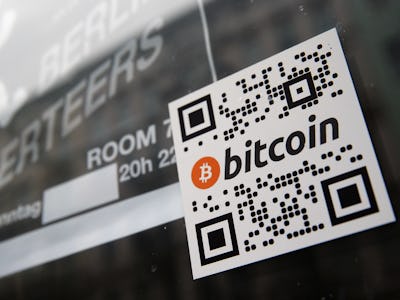 Getty Images / Sean Gallup
The World Economic Forum thinks the technology that allows Bitcoin to function will start to change the global financial industry sometime within the next year.
Blockchain "has the potential to drive simplicity and efficiency by establishing new financial services infrastructure and processes," the group said, and "will form the foundation of next generation financial services infrastructure" in the future.
The blockchain is basically a giant, secure public ledge for bitcoin transactions. It's meant to reduce fraud, increase trust, and let people make financial transactions without having to rely on intermediaries like banking institutions. Now, those same banks could take advantage of blockchain technologies for themselves, which could lead to an improved financial system from which everyone benefits.
Here's a video from the World Economic Forum explaining the technology:
And here are some of the benefits the forum sees from using blockchain tech:
For most people, those benefits should translate to an easier time at the bank. Everything could be made simpler, at least from their perspective, and faster. Gone would be the days of having to wait several days for one bank to transfer funds to another — instead, the internet would finally be able to make that process instantaneous. Financial regulators might also have more power to hold banks and other institutions accountable for their indiscretions.
That's no small achievement, considering blockchain technology was previously lumped in with the volatile value of bitcoin, which a judge said wasn't a real currency, has led to very expensive hacks, and provided the inspiration for a show about creating a new cryptocurrency.
You can read the World Economic Forum's report here: