Crackle's Bitcoin-Inspired Thriller 'StartUp' Debuts September 6 
Martin Freeman and Adam Brody to star in a series about startup life.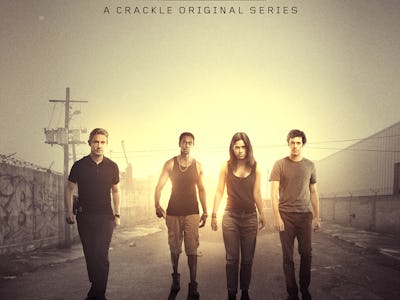 Crackle
Sony has scheduled StartUp, a 10-episode series with Martin Freeman and Adam Brody depicting the drama around a startup creating a digital currency, to make its debut on September 6.
The series is part of Sony's efforts to remind people that its video streaming service, Crackle, is a legit competitor to services like Netflix and Hulu. And that means developing original content while also offering hidden gems — well, if you can call them that — like Joe Dirt 2 to subscribers. That's where StartUp is going to come in.
The official plot summary goes like this:
Martin Freeman (Fargo, Sherlock) plays FBI agent Phil Rask, specializing in financial crimes. Rask crosses paths with Nick Talman, played by Adam Brody (CHiPS, The League), a sharp and intelligent financier at a boutique firm in Miami, but it's not Talman that Rask is after — it's his father. Nick has a problematic relationship with his wealthy, irresponsible father, who disappears and forces Nick to stash his ill-gotten gain — instead of going to the FBI, he decides to hide the money by investing in a tech startup pitched by the unorthodox Izzy Morales, a tech whiz out to change the world, played by Otmara Marrero (Graceland). Edi Gathegi (The Blacklist, Twilight) also stars in the series as Ronald Dacey – second-in-command of the local Haitian gang. When Ronald discovers that the money he left with Nick's father has vanished, Ronald moves on to the next best thing—his son. An unexpected partnership forms between Ronald, Nick and Izzy which culminates in a dangerous alliance that make them a target for Rask (Freeman), who plans to take a journey to the very pit of darkness to take down the unsuspecting trio.
Also, the series is:
[Set among] the unconstrained, yet opportunist streets of Miami and weaves a complex and exciting narrative, focusing on the high-stakes struggle of what one will do to reach ultimate success. But this is not your average startup incubator story. StartUp is about the emergence of GenCoin, a brilliant, yet controversial tech idea centered around digital currency — an idea that gets incubated on the wrong side of the tracks by three strangers who don't necessarily fit the mold of tech entrepreneurs" and a crooked FBI agent who will go to any length necessary to take them down.
Crackle launched in 2007 and is available on Roku, PlayStation, and Apple TV, among other platforms, and includes everything from The Art of More, a series about art thieves, to a series called SuperMansion that uses claymation to parody other superhero shows and movies and that isn't afraid to be over-the-top.
One thing all these series have in common is their surprisingly good casts. The Art of More stars Dennis frickin' Quaid, SuperMansion is led by Bryan Cranston, and StartUp now has Martin Freeman. (Other stars of varying brightness also appear in each series, but those three are the most notable, for differing reasons.) Perhaps the idea there is to convince people that the answers to the questions — do we need another overly dramatic series; is anyone interested in claymation; and can HBO's Silicon Valley be turned into a gritty thriller — should all be "yes."