This Fall Will Be The New Summer Movie Season
Summer movie season was a dud, but with 'Fantastic Beasts,' 'Assassin's Creed,' and 'The Girl on the Train,' Fall will deliver.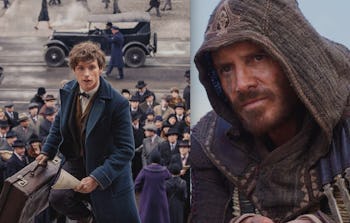 This summer has been one of the most underwhelming movie seasons in recent memory, filled with flops (X-Men: Apocalypse) duds (Warcraft), tired resurgences that failed to land (Independence Day: Resurgence) and movies that almost defy categorization (Suicide Squad). But if you're losing hope in the magical pastime of watching a big screen in a dark room with sticky floors, good news: Summer movie season is still happening in 2016. It's just going to happen this fall instead.
The coming months will bring tentpoles like Fantastic Beasts and Where To Find Them, Miss Peregrine's Home For Peculiar Children, The Girl on the Train, and Assassin's Creed. All have two things in common: They are from wildly popular pre-existing franchises — meaning box office demolitions is all but ensured — and there is a very low possibility that they will be bad. Even if, by some chance, one or two is mediocre, they can't possibly be worse than this summer's offerings.
Fantastic Beasts has a script written by J.K. Rowling — if you didn't like Cursed Child, take comfort that Rowling did not write it andFantastic Beasts will play with new characters, avoiding Cursed Child's pitfalls — and will star Eddie Redmayne and Colin Farrell. Even though it doesn't feature any Harry Potter characters, save for perhaps a young Dumbeldore cameo, a Potter-verse movie means it might very well be the biggest of the year. And yet instead of swallowing our summer, which it could easily do, it's coming out in November.
Similarly, Miss Peregrine's Home For Peculiar Children, based on the book of the same name by Ransom Riggs, will ride the YA book wave, the post-Penny Dreadful Eva Green wave, and the nostalgia wave for when Tim Burton was still Tim Burton. This too, is a movie with a built-in audience that ordinarily might have come out in the summer, but perhaps in an effort to avoid competition with superhero fare, waited until the fall.
As the recent superhero faire has been lukewarm — both Suicide Squad and X-Men: Apocalypse had unimaginative paint-by-numbers fight sequences and yawn-worthy foes— it will be up to Assassin's Creed to deliver the kind of action typically found in summer movies. Based on director Justin Kurzel's previous efforts with Macbeth, it will be more than up to the task.
But ironically, it will hit theaters in December. Superhero films scare the potential competition, sending them fleeing to a different season, but when they fail to deliver, quality grandiose filmmaking is shifted out of the summer season. October's The Girl on the Train will be a more sedate affair, but with a Gone-Girl esque mystery and a similar level of buzz, it's sure to be a hit too.
Because summer movie season ranged from underwhelming to awful, it would be easy to proclaim it as the final death toll for the cinema. Television is where the gold is. That might indeed hold truth. But curiously, as a result of this shitty summer season, fall — and spring — will bring a new wave of offerings that prove there's a future yet for big tentpoles. Just not in the summer.