'Supergirl' and 'The Flash' Are Doing a Musical Crossover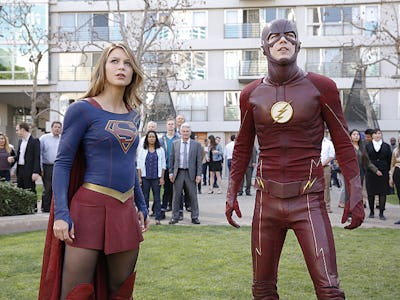 Robert Voets / Warner Bros Entertainment
If you like singing superheroes, today's your lucky day. At the CW's TCA presentation, Greg Berlanti confirmed that there will be a musical crossover between The Flash and Supergirl.
This might sound a bit wacky, but season three of The Flash has basically thrown a big time-traveling wrench into the CWverse with Flashpoint, so anything is possible in the new worlds and universes created. CW will also likely use this plot device as an excuse to merge Supergirl into the CW-verse proper — before, the only crossover with other DC properties was a dimension-jumping Flash episode. Grant Gustin and Melissa Benoist had phenomenal chemistry on-screen, and their respective shows have brought some much needed lightness to DC Comics lore, so a musical episode isn't completely off-brand for them.
Who knows, maybe there'll even be a song about ice cream.
With Supergirls move to the network from CBS, the CW has a wealth of opportunity when it comes to the DC universe on TV, and with that comes plenty of crossover opportunities for Arrow, The Flash, Supergirl, and Legends of Tomorrow. Right now there's no official word on whether or not Arrow and Legends of Tomorrow will be part of this musical crossover, but don't rule it out just yet.
In addition to this musical crossover, we're going to see a massive four-show crossover. And it's a good bet that we're also going to see the fallout of the Flashpoint events unfolding in The Flash reverberate throughout some of the other shows on the network.
Musical episodes tend to be the kind of thing that either goes over really well or really really poorly, so fingers crossed that the CW's DC attempt falls into the former category and not the latter. For the record, though, a time-traveling, singing Victor Garber isn't something we're opposed to.