2016's Most Radical Urban Planning Proposals
Some of these may never come to life, but that doesn't mean we can't admire the innovation behind them.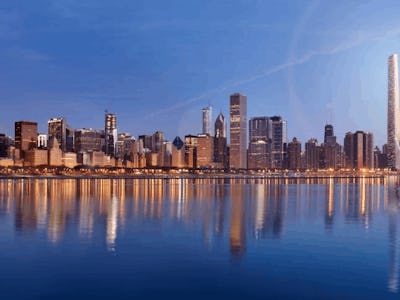 Gensler official site
As architects continue to develop innovative approaches for their practices, proposals become more daring. While a significant number of proposals will never come to life, the very fact that architects are verging on the unbelievable with their plans signals a golden era in architectural creativity – and points to a future with no shortage of breathtaking, state-of-the-art buildings.
This year has been replete with incredible urban planning proposals. Now that we're almost halfway through 2016, it seems an appropriate time to revisit some of the most game-changing proposals, some of which have been greenlit and others that are still just ideas.
Gateway Tower
Gensler's proposed 2,000-foot Gateway Tower in Chicago, which would fill the gaping hole left by the ill-fated Chicago Spire that never came to fruition, would alter the city's skyline with its enormous height. Gensler's design for the Gateway Tower urges Chicagoans to forget about the highly anticipated Chicago Spire by emphasizing a mixed-use concept that would invite more people to the site. The tower's wishbone shape gives it a sleek and slender aesthetic while engaging Lake Shore Drive with its stilt-like legs that reach across the highway.
Anchorage, Alaska
Plenty of people who move to Anchorage, Alaska are struck by how unattractive and poorly-planned the city is, which makes the municipality's new endeavor to strengthen the city's potential for economic growth with an innovative land use plan a long overdue, but welcomed development. The Muni's draft plan seeks to create more bikeable and walkable neighborhoods for younger city dwellers and identifies "corridors that are ripe for Bus Rapid Transit." The plan centers on strengthening the appeal of Anchorage's "unique amenities" to attract more professionals as "low oil prices drain the state budget."
Xinhee Design Center
Beijing-based MAD architects recently revealed their plan for a 657,000-square foot design center for Chinese clothing designer and manufacturer Xinhee, which features a "six-lobed complex of buildings joined at a central atrium," with each lobe hosting one of the company's six clothing brands. The design for the Xinhee center combines practicality and environmentalism, with the central atrium serving as a catwalk for fashion shows and a "solar chimney" that "pulls cool air from ground-level gardens up through the structure, carrying away heat and exhaust along the way," according to The Architects Newspaper.
Qatari Skyscraper
Zaha Hadid's passing in March marked a devastating loss for the architecture community, but her firm has continued to put forth some incredible proposals. The firm recently revealed its plan for a Qatari skyscraper, designed to resemble the desert hyacinth, a "nine-pointed flower with a bulging base," according to Architectural Digest. Scheduled for completion in 2020, the Lusail building blurs distinctions between architectural elements like other infamous structures in the region.
Archeology Museum in Delos
New York-based architect Jean Pierre-Heim recently unveiled some renderings of his new plan for an archeological museum on the Greek island of Delos. While there are still many unknown specifics about the museum's design, the rendering depicts what looks like three huge rocks propped up in a triangular plot of land. Although Delos is not an urban environment, the boundary-pushing design of the museum surely deserves some attention.
Hans Christian Andersen Museum
Japanese architect Kengo Kuma's whimsical and verdant plan for the Hans Christian Andersen Museum in Odense, Denmark merges a heavily-themed experience with an eco-friendly approach. ""It was important to us that gardens, building and exhibition design were envisaged as an interconnected whole that clearly captures the spirit of Andersen and brings out the essence of the city of Odense at the same time," Odense's head of cultural affairs said to Dezeen.
Headlights in Sidewalk
This year's round up of radical urban planning developments and proposals wouldn't be complete without revisiting the traffic lights that were installed in the ground in the German city of Augsburg – to alert pedestrians staring at their phones of oncoming traffic. While people should probably just learn to stop looking at their phones, the ground-based traffic lights demonstrate the city's dedication to the safety of its pedestrians.
Garden Bridge
London's controversial Garden Bridge, although proposed in 2012, has been the epicenter of plenty of controversy in British politics this year, primarily concerning the conception of the idea and its funding. While anti-Garden Bridge campaigners assert that the project is too expensive and exclusionary to the middle class, those who support it uphold the scenic flourish it will add to the city and the projected benefits for education and transportation. The design of the bridge may not be the most groundbreaking, but the amount of debate it has sparked certainly is.
Sperbank Technopark
In April Zaha Hadid Architect's revealed its competition-winning design of Sperbank Technopark in Moscow, which, according to Arch Daily, was the first announcement of a new project since Hadid's passing. The 131,000-square foot facility will accommodate up to 12,000 workers in the marketing and information technology fields and "reconfigures working relationships and adopts a holistic approach to creating an engaging environment that offers a diversified range of facilities both internally and externally."