From 'Thomas the Tank Engine' to the Hard-R 'Sausage Party'
Where else are you going to be able to watch packaged meats have a food orgy?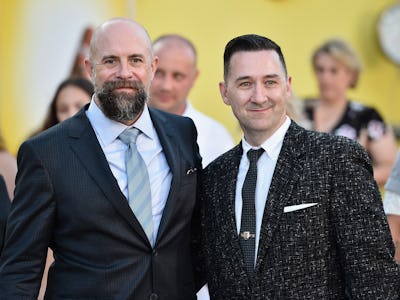 Getty Images / Alberto E. Rodriguez
The new animated film Sausage Party is inappropriate in the best way possible. When else will you get to see a bunch of packages grocery meats and produce get into a huge food orgy? Increasingly versatile filmmaker and funnyman Seth Rogen collaborated on the script to this naughty animated food film — in which a bunch of foul-mouthed foodstuffs try to escape being eaten — with frequent collaborator and friend Evan Goldberg along with screenwriters Kyle Hunter and Ariel Shaffir. What the team envisioned was a broad animated film that references cartoon classics, but dispenses R-rated gags that only an adult audience could swallow.
To help them bring that gloriously twisted vision to life, they enlisted the vocal talents of comedic titans, including Kristen Wiig, Bill Hader, Michael Cera, Nick Kroll, Edward Norton and Salma Hayek. To combine these elements into one deliciously hilarious CG package, they brought animation veterans Conrad Vernon and Greg Tiernan in as directors. The seasoned pair's experience stretches back decades, with such wide ranging projects as Thomas the Tank Engine, Rugrats, and Shrek.
Inverse spoke to Vernon and Tiernan about how Sausage Party was unlike anything they've worked on before, and how shocking the audience, instead of making them laugh, reigns supreme.
What was the pitch like from Seth and Evan for such an unconventional film?
Conrad Vernon: I worked with Seth on Monsters vs. Aliens, so I went over to his place and he was there with Evan and Jonah Hill. They started talking about how no one has made a CG, R-rated animated feature before. In the back of my mind I'd been wanting to make an R-rated animated film since I was 13 when I saw the trailer to Heavy Metal. The simple pitch back then was "A bunch of hot dogs escape their packaging to go hump bums after their grocery store closes." I said I'd love to do it immediately.
You mentioned Heavy Metal — Did you use any other film reference points while working on Sausage Party?
CV: We didn't look at a lot of animation. We looked at stuff like Sergio Leone movies and huge cinematic films in order to see how we could shoot a grocery story in a cinematic way, to make that world seem huge and to overcome a kind of repetitiveness in that environment.
Adult-oriented animation seems to be more present on TV. Why do you think that is?
Greg Tiernan: A movie is a major risk. CGI and traditional feature film animation has erroneously been seen as a children's genre because Disney, Pixar, Sony, and Dreamworks have all been such a huge success. Think about all the movies of the past 10 years that made ridiculous amount of money at the box office, and then think about why you would want to screw with that formula. It's a huge gamble to pitch the idea of a movie with all the production value of these huge Pixar movies but is actually for adults. But to me it's as simple as getting over the idea that feature film animation is just for children.
What is the dual-directing thing like? How do insure you're both on the same page?
CV: When you're partnering with someone on a creative endeavor you make sure you get along to begin with. Luckily, Greg and I have known each other since the early 1990s when we worked on Cool World together, and when I pitched this to him I already knew he was the one I wanted because both of us aren't strangers to drawing disgusting little dirty joke drawings and passing them to each other and laughing our asses off.
In the process we constantly talk to each other to stay on the same page, and we didn't let the ego get in the way. All disagreements were debated out and it was about what's best for the movie. If we didn't agree on something we tried things both ways and the correct one would always surface. We both had an equal amount of being wrong and right about this.
What were the sessions like recording such great improv talent? Did they stick to the script?
GT: We had an awesome foundation with the script, but the writers just kept massaging and changing it. As Seth and Evan well know — and all the talent we had knows — with comedy you can't stick to a script. A lot needs to be ad-libbed. It was a joy for us to be freed from that. Seth would read with the actors a lot in the studio and play a bunch of characters — sometimes I would or Conrad would. Even some of the talent that aren't known as comedic actors like Salma Hayek were incredible with the stuff that they just came up with.
The film was screened as a rough cut at SXSW. What was that like, and did you change anything after that for the release?
CV: We had two other screenings before that in New York and Orange County, which were all completely made of storyboards. That was all about what worked and what didn't. We changed a hell of a lot after those like the order of scenes, and Evan and Seth rewrote a lot of stuff. When I found out we were showing it at South-By I was beyond excited because I know that audience and how crazy they are. They went apeshit over it.
What's it like as directors waiting for your film to be released?
**GT: There's no anxiety for me. I believe very, very strongly in this movie. My feet haven't touched the ground yet because it's been a long process, seven years all told. Part of me can't actually believe it's finished, and it might not sink in after the first few weeks at the box office. But to me it's all excitement.
CV: I just can't wait to show it to people. We had been keeping it under wraps for so long, and I've seen the movie so many times that I can't sit down and watch it by myself. There's nothing more fun than sitting down and watching an audience's reaction. It's all fine and good to make someone laugh, but to shock someone is so much better.
This interview has been edited for brevity and clarity