4 Ways Brexit Has Wrecked UK Technology
Although the country hasn't left the EU, things are looking pretty messy.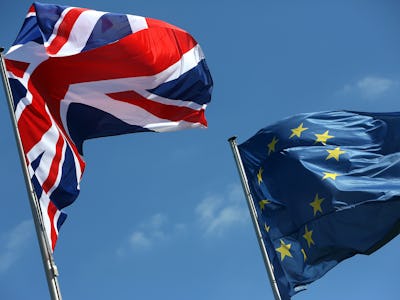 Getty Images / Adam Berry
It's been nearly two months since the United Kingdom voted to leave the European Union — Brexit! — and despite not yet actually invoking Article 50 of the Lisbon Treaty (which starts the formal withdrawal process), the vote has left Britain's tech industry in shock.
Britain's tech industry is a key part of its economy. A February report from London think tank Tech City UK found that the sector is growing 32 percent faster than the rest of the economy, bringing in revenue of £161 billion ($209.4 billion) in 2014. This year, the Boston Consulting Group (BCG) expects the digital economy to account for 12.4 percent of Britain's GDP, but in the average G20 country, it only accounts for 5.3 percent.
There are a lot of reasons for startups to come to the UK.: In London, the High Speed 1 provides easy train access to Paris and Brussels, while finance-focused startups benefit from close proximity to the square mile. The latter is particularly important: a report from Z/Yen Group ranked the city as the finance capital of the world.
The UK as a whole was also attractive for startups because of its membership of the EU, the world's largest economy. The so-called "four freedoms" mean that goods, services, labor, and capital can move freely across the EU. Developers from elsewhere could work visa-free, companies could hire from abroad easily, and startups could offer their product across the EU with minimal effort. Combined with a common language, it's easy to see why American companies would want to come to the UK.
Here are four ways the vote to leave the EU has had an impact.
Prices have risen
No sooner had Sunderland declared its dislike for all things EU, the pound tumbled on the global currency markets. That pushed manufacturers to up their prices to compensate. The OnePlus 3 price was hiked by £20 ($27) to £329 ($427.62), while the HTC Vive headset jumped from £689 ($895.53) to £759 ($986.51). It's not all bad news, though: Softbank's July purchase of Cambridge-based chip designer ARM for £24.3 billion ($32 billion) was aided by the yen, which had grown 12 percent stronger against the pound since June 24.
Businesses have started having second thoughts
Days after the vote, tech firms expressed their concerns that the vote was bad for the industry. Then firms began to re-evaluate whether locating in London was right for them: Beachfront Media CEO Frank Sinton told Recode that, when it comes to getting a foot in the EU, Berlin seems like a better place to expand the mobile video company.
On a wider note, Box CEO Aaron Levie told CNBC that Brexit was just one of many ways that global firms will have to tackle a fragmented consumer base. "This is a mismatch between the potential of the internet and how today's laws work — but there is no obvious solution in any foreseeable time period," he said.
Workers have started having second thoughts
It's not just businesses that are considering upping sticks. A survey carried out by Teleport, which helps skilled workers move jobs, showed that 76 percent are considering leaving the UK after Brexit. That's bad news for tech firms looking to attract the best and brightest from all over the continent.
"I was already planning to leave and am now very happy it was the right decision," one anonymous user experience designer told Teleport.
Until negotiations lead to a clearer image of how immigration law may work post-Brexit, Europeans will also remain in the dark about their British job prospects.
"We've always had a melting pot of talent," game industry investor Phil Harrison told Polygon when discussing British game development. "When I've run studios and placed ads we've had applicants from all over Europe and that sort of diversity makes for a more dynamic culture and more exciting and better games."
Researchers have started having second thoughts
A confidential survey seen by The Guardian of British academics found that many are being asked to step down from EU-funded projects. Joe Gorman, senior scientist at research institute Sintef, told the publication that simple risk aversion is taking place, where teams looking to secure funding won't want to make themselves seem less desirable.
Research is a key area that supports the UK's tech industry. Take Cambridge as an example. The city is home to some of the best computer scientists in the world, trained at the local universities of Cambridge and Anglia Ruskin. Firms like HP Autonomy, ARM, and (in previous years) Acorn fed off that talent by applying their research skills in industry. If funding dries up in a significant way, it could seriously damage the country's innovation output.