SpaceX May Send a Used Rocket Back to Space by the End of the Year
Today, SpaceX's Gwynne Shotwell confirmed the existence of a major company goal.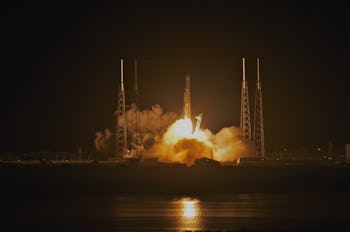 Getty Images / Roberto Gonzalez
SpaceX President Gwynne Shotwell opened up to the media today during the annual Small Satellite Conference in Logan, Utah to talk about SpaceX's journey to Mars, and how it plans to get there. Reports from the conference say that Shotwell confirmed the shipment of the Raptor — its new generation of rocket engine — to Texas for testing, among other subjects, which included what SpaceX plans to do by the end of the year.
Shotwell detailed the company's aspirations of sending a reused rocket back into space by the end of 2016. This didn't come as much of a surprise when considering the fact that recycling and reusable energy is a major sticking point with company founder Elon Musk. Musk is a huge advocate for clean energy and self-sufficient technology, but the speed at which the company intends to work with its rockets is astounding.
The last time Shotwell spoke at SmallSat, SpaceX had just taken a heavy blow after a third failure for its Falcon 1. Now, the company's repeated successes are reflecting in its direction.
The company shared footage of its past successes and failures, recapping its history today on Facebook:
"We have to figure out recoverability or all the trips we send people to Mars on will be one-way," Shotwell says via the RIT Space Exploration Program's Twitter account. "That's not the way we roll." With their eyes set on Mars, being able to run both launch and return missions with one booster might be a major key to their success. The company plans to land humans on Mars by 2024, and could play a major part in keeping U.S. astronauts aboard the International Space Station in the future.
It's unclear yet whether or not the end-of-year goal will be met, and no promises have been set in stone to date. Still, it's pretty interesting to hear this kind of progressive update from SpaceX's President.