The TSA Found a Deadly 3D-Printed Gun in Carry-on Baggage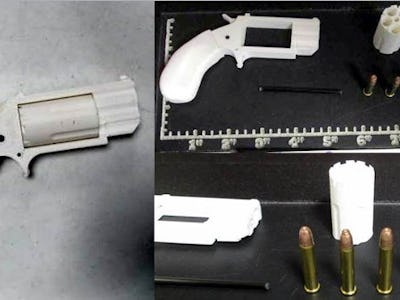 TSA
The Transportation Security Administration (TSA) discovered and confiscated a loaded 3D printed handgun at the Reno, Nevada, airport on August 4. Sure, the TSA failed to catch 95 percent of contraband last year, but it looks like they've stepped up their game.
The five-inch, five-shot revolver most closely resembles a .22 Magnum Mini-Revolver. The gun was loaded with five store-bought shells that appear to be .22 magnum or .22 long cartridges. A .22 magnum is enough to do some serious damage, especially in the tight confines of an airplane. The owner chose to give up the weapon, so he was not cited or arrested.
"This was a good catch from the TSA team at Reno (RNO)," the TSA writes in a blog post detailing the confiscated firearms of the week. "While firearms are permitted in checked baggage, we strongly suggest making yourself familiar with local laws prior to flying with a printed firearm."
3D-printed guns are some of the most notorious devices in the burgeoning 3D-printer market. There is currently no regulation on 3D-printed guns — something the National Rifle Association is looking to maintain — and it's unclear if printed guns are constitutionally protected under the Second Amendment.
3D-printed guns may exist in a legal gray area, but they're still deadly.
The printed gun in Reno probably shoots a .22 Winchester Magnum Rimfire (WMR) bullet. The bullets are ideal for short to medium range small game hunting.
"Just because we find a prohibited item on an individual does not mean they had bad intentions," the TSA says in a blog post, "that's for the law enforcement officer to decide. In many cases, people simply forgot they had these items."
Honest mistakes are fine, as long as the TSA catches them before weapons make it on planes. Maybe that expanded security training the TSA has been doing is working. Either way, the weekly confiscation blog is a much better way to build goodwill than promotional YouTube videos no one watched.
3D-printed firearms present a whole new threat level to security agencies, but in this case, at least it's a threat the TSA is actually prepared to handle.