The TSA's YouTube Series Wants to "Increase Awareness," but Nobody's Watching
If nobody's watching, are the videos still working?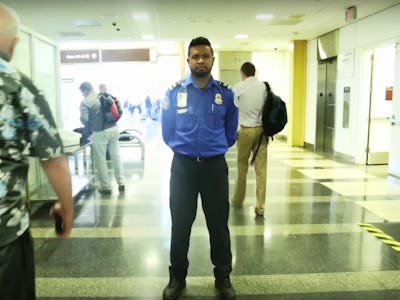 TSA
Like the DMV, the TSA suffers from a bad reputation. The agency of blue gloves and metal detectors has been hit hard by federal budget cuts, and Administrator Peter Neffenger has struggled to retain screening staff and hire more workers to offset the deficit of more than 58,000 staffers when he took the reins in July. Lines in America's airports became so long that even the airline industry's favorite heel, Delta, won points by opening its own security checkpoints.
Lately, the TSA has been adding to its series of YouTube videos that seem to aim to humanize employees (because, to be fair, it's not their fault) and shine a little more flattering light on the administration as a whole.
Jennifer Plozai, the director of external communications at the TSA, says the videos are meant to "better inform the public about the TSA and its capabilities in carrying out its security mission."
"The point of the videos is to increase the awareness of TSA's counterterrorism efforts; humanize and promote the pride of our workforce; and to provide travel tips to increase efficiency and improve the overall passenger experience at the checkpoints," Plozai tells Inverse.
There's just one problem: Nobody is watching the videos about the TSA employees. On its YouTube channel, travel tip videos rack up tens of thousands of views but those about agency employees, even its chief, generate far less.
And the latest video, "TSA on the Job: Transportation Security Officer," takes us through a day with Jonathan Williams, a Supervisory TSO at Reagan International Airport in Washington, D.C. Williams is a friendly looking dude, and the GarageBand essentials easy listening soundtrack makes him seem like a great guy to grab a beer with and maybe discuss very non-controversial topics like the weather and how great it is to just have a cold one after a long day, huh? The lines aren't his fault, he said, he's just doing his job (we feel that).
"It is a difficult balance but we have to do our best to never lose sight of the mission: maintaining aviation security," Williams says in the two-minute video. "I don't jeopardize my security operations to speed up the line, however I will listen to your concerns." As of this writing, it has 413 views (although it's only been up for about 24 hours):
Far fewer people have watched the video than were standing in line at Chicago's Midway airport a few weeks ago, seen here in a viral (2.3 million views) video.
The "TSA on the Job" series is meant to "highlight the diversity and expertise of our workforce through their stories and perspectives," Plozai tells Inverse.
She did not say that the new videos were a response to recent criticism — adding that her team had been making the videos since August of 2015, when the new TSA website redesign launched.
The TSA is actively hiring more screeners, and even Secretary of Homeland Security Jeh Johnson weighed in on the administration's woes, saying the administration was doing as much as possible to sooth the nation's frustrated travelers.
Here's another one of the "humanizing" Faces of the TSA shorts, about a 9/11 firefighter who became a TSA agent, published on September 11 last year, which managed to ride the wave of remembrance to just over 4,500 views.
Last week, Neffenger attempted to explain to Congress why security lines were so long, and in April he was the subject of a TSA video of his own. The agency chief says in the video that the TSA is devoted to "investing in their people," namely, the competently trained employees whose ranks they're trying to expand. Neffenger did manage to keep 1,600 workers scheduled for layoffs from losing their jobs, and said an additional 768 would be behind the detectors by June 15, but it's still unclear how the TSA's budgetary woes will affect lines and hiring this year.
"Our job is to make sure that nothing gets past us that shouldn't get past us," Neffenger says, and the TSA's wild Instagram certainly supports that point. "You [the TSOs] are the front face of government. So what people think of you is what they see in their government."
Neffenger's video, titled "The Administrator's Intent," has 736 views as of this writing.
CORRECTION: An earlier version of this article attributed the TSA's long screening lines to layoffs. Those layoffs were announced in May of last year, when Neffenger's predecessor Adm. James M. Loy was in charge. This article has been edited for clarity on that point.