How to Build a Professional Racing Drone for $685
Speed isn't cheap, but here's how to be thrifty.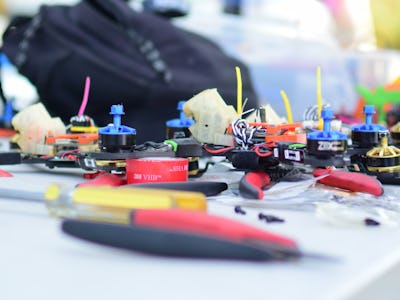 Nickolaus Hines
Drone racing isn't cheap. To get a drone in the air, pilots need to purchase and assemble a number of intricate parts and components, and it's no surprise that professional quad pilots (true pilots prefer the word "quad" over drone) spend more time building and fixing their drones than actually flying.
There are, of course, ready-made drones that casual users can fly out of the box. One of the most popular models, the DJI Phantom, retails for $1,400, and the Chinese competitor Xiaomi plans to offer a sub-$500 drone.
But those aren't racing drones.
The Phantom and Xiaomi drones are heavy, stable quadcopters designed for easy flying with an aerial camera. Racing drones are stripped down, fragile hornets that can fly faster than 80 miles per hour (although races have a 60mph speed limit for safety).
Building a racing drone can both a lot of fun and a lot of hassle. The many different options and variations make for endless opportunities for customization (or endless opportunities for failure). If you want to hit racing speeds like the pilots at the World Drone Prix in Dubai or Drone Nationals on Governors Island in New York City, you need to make sure you buy the right equipment.
Inverse asked Paul Kellett how much it would cost to build a drone that was race worthy. Kellett is the man behind DroneXLabs, a company that sponsors 33 pilots from 13 different countries. In short, Kellet says, you can build a race drone for around $1,000 to $1,500. Here's the breakdown on what you need.
Lithium batteries: $25 each
Everyone is looking for the battery with the fastest output. The catch? One battery won't get you very far, no matter the output. You're going to want at least four.
Total: $100
Battery charger: $100
Batteries are no good if they can't be charged quickly and repeatedly. The charger must be specifically designed to charge lithium batteries.
Total: 200
Balance board: $20
The balance board connects the battery charger to the batteries. It can connect and charge multiple batteries at a time, cutting down the time you spend on the ground.
Total: $220
Radio controller: $60-200
This is your steering wheel, gas pedal, and all of the controls to keep your quad in the sky. Radio controllers widely vary in complexity. The most useful ones run on open software, so they can be customized. There are entire online communities, like rcgroups.com devoted to open-source quad-controller software, discussions, and guides.
Total: $280
Goggles: $250-500-plus
Drone racing wouldn't be where it is today if it weren't for advancements in goggle technology. Still, they aren't perfect, and the video quality varies dramatically. If you buy all the pieces separately (receiver, battery, goggles), you can get away with spending only $250. It won't be the most convenient, but high-efficiency, racing level goggles can get pricey.
Total: $530
Drone frame: $35-100
How much you spend on a carbon fiber frame directly correlates to how durable the drone will be. Buy one on the higher end, and you can sustain some heavy crashes. On the lower end, you might need to take it all apart a couple more times due to bent and broken frame arms.
Total: $565
Camera: $20-40
The price depends on the lens. The lens typically ranges from 1.8 mm to 2.8 mm. Many pilots choose the 2.1 mm, Kellet says, which is a little bit wider, so they can see the next turn coming.
Total: $585
Video transmitter (VTX): $20-60
The VTX sends the video data from the camera into the goggles. Race quality transmitters run at 5.8 gigahertz. Some have buttons to program and activate them, others use an activation wand.
Total: $605
Flight controller: $20-30
The flight controller on the drone sends back data to the radio controller. Some flight controllers can even send information about the battery so you know when to land.
Total: $625
Power distribution board: $10-20
Simply put, without the power distribution board on the bottom of the quad, you're going to have a mess of wires.
Total: $635
Electronic speed controller: $10-25
This is the piece that controls how fast each motor goes by a wire running from the control board to each individual motor.
Total: $645
Motors: $20-40 each
The motors will vary in price and output, but for racing drones, you would want to go for the higher end motors.
Total: $665
Propellers: $5-10 per set
If you manage to only break a propeller during a crash (and crashes are unavoidable), then you're looking at a $1 or $2 crash. You'll probably need at least four sets to start, we'll say.
Total: $685
Labor to construct the drone: Around $300-500
A weathered drone racer can build a drone in around four hours. A more regular speed of assembly is around eight hours. If you want to skip this step, you can save some serious money, and there are plenty of YouTube tutorials on how to construct a racing drone if you're really in the DIY mindset:
All told, you're looking $685 for a cheap racing drone … plus tax. These prices are an approximation, as shipping costs, taxes, and other fees will vary state by state and country by country, but it turns out even a basic racing drone isn't cheap. A basic build will get you in the sky, but your mileage may vary with discount parts. Otherwise, if you want to race with the best, you'll need to shell out some serious cash — not to mention the hours and hours of practice it takes to learn to zip around the sky.