17 Things You Only See at a Professional Drone Race
Surveillance, space suits, and a special type of Champagne shower.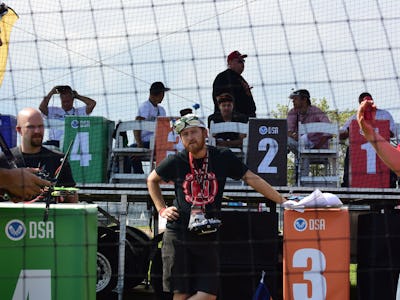 Nickolaus Hines
North America's premiere drone race, the Drone Sports Association's Drone Nationals, took place on August 6 and 7. It was broadcasted live on ESPN3 from Governors Island in New York City, and it was hyped as the event that would put drone racing on the map.
First, people had to figure out what drone racing is exactly. It's been described in the context of current sports as a mix between eSports and NASCAR, and that description feels close to what happens at a drone race. It should also be noted it looks like fucking fun. In the days leading up to the race, a "Day of Drones" event in Bushwick, Brooklyn featured a similar identity crisis. It was sponsored by Mountain Dew and featured, because why not, a performance by Ghostface Killah.
Two high-profile drone events sponsored by big corporate names later, and the world can see it's more of a miniature version of pod racing on Tatooine than Dale Earnhardt Jr. turning left. Here are a few things that you will only see at a professional drone race.
17. Professional Competitors Wearing Shark Hats
In a sea of black hats, one shark hat could be seen bobbing and weaving through the crowd of pilots the entire weekend.
16. Champagne Showers With FPV Goggles
Zachry Thayer, AKA A_Nub, won the solo competition. His teammate Jesse Perkins is spraying the 'pagne, but decided against taking off his $500-plus FPV goggles first.
15. Pokémon and Star Wars Name Mashing
Can't choose if you are more of a Pokémon fan or Star Wars fan? Mix together some names and forget making a choice! Take Bulba from Bulbasaur in Pokemon Go and Boba Fett from Star Wars, of course.
14. Spectators Using Video Screens While 10 Feet From the Event
Sure, the bleachers are right next to the track. But drones are small, fast, and extremely hard to follow.
13. Sleeping Competitors
It's hard to blame the racers here. There is a lot of down time in drone racing.
12. That Ball-in-cup Game That Everyone Forgot About
Remember back in the day when life's pleasures were simple, and all kids needed to be entertained was a ball and a stick with two different sized holders? That day is long gone for most people, but not for drone racers apparently. Perhaps it helps with coordination.
11. Virtual Drone Practice in an Isolated Tent
Who needs the outdoors and all its bugs and sun when the same drone flying experience can be found right next to the track in an isolated, shaded tent?
10. A Giant Space Suit
We don't know either.
9. Zoned-in Spectators
Sometimes the best view is one that is impervious to distance.
8. Virtual Reality Zones
Flying drones isn't the only thing that requires a headset at Drone Nationals.
7. Constant From-the-air Surveillance
Drone races are straight out of Lolly Whitehill's worst dreams.
6. Plane Launches
Fixed wing aircraft got some love at Drone Nationals as well. Although they take a little more work to get in the air than quadcopters.
5. Instantaneous Judgment From Competitors
Fear not, people who are afraid of confrontation. Drone sports allow your competitors to laugh at you via video.
4. Backwards Shark Hats on the Winners Podium
Remember the pilot with the shark hat from above? His name is Chad Nowak, and he won first in the freestyle competition.
3. Soldering Irons Everywhere
On-site construction is very necessary during drone races. That means soldering. Lots and lots of soldering.
2. Drones in Nets
Crashes are one of the delights of watching drone races. Nets and propellors make for an interesting combination, however.
1. VHS-Quality Video Feeds
Drone racing is high tech. Unfortunately, the cameras aren't always as advanced, and sometimes the video feeds racers use look like old VHS recordings.