Drone Racing's Hype Machine Lurches Toward a Payday
The future of sports is a sideshow at a warehouse party in Brooklyn. Wait, is that Ghostface Killah?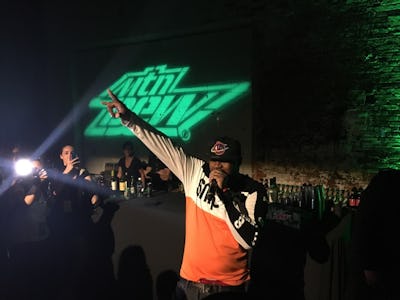 Nickolaus Hines
There wasn't much soda at Mountain Dew's Day of Drones. There weren't even that many drones. There was, however, an indoor half pipe, a lot of neon lights, a pop-rap DJ set, a performance by Ghostface Killah, and an identity crisis. The crisis had nothing to do with Baja Blast and everything to do with the current state of drone racing, which seems to be on its way to becoming an alternative sport, the skateboarding of an inevitable X-Games inspired techno-athletic competition. Drone racing has a small following — smaller than one member of Wu Tang — and so the garish neon sponsors that go in for this sort of thing are dragging their feet on the big money deals. The Day of Drones was a corporate flirtation drawn out over the course of hours in a Bushwick warehouse full of sickly green lights, spare tires, and bass notes.
A black-suit-clad bouncer checked IDs at the door while two blonde women checked if the entrant's name was on the list, recognizing people by black and white printouts of their Twitter profiles. Inside, stadium seating made from stacked Mountain Dew cases faced a bunch of skaters on a Dew-branded halfpipe, the first thing each person saw as they entered the building. If drone racing is the next skateboarding, next might mean "five to ten years from now."
I was pretty confused as to who this event was aimed toward. Was it the Dew drinkers, who would be woefully disappointed at the dismal amount of dew drinking options? Was it the drone nerds, eager to be part of a scene? Was it for people like me, journalists skulking around warehouse Brooklyn listening to "White Iverson" blast from a DJ booth while looking for a trend or, barring that, a personality? Unclear, but the steamed chicken gyoza dumplings, the prosciutto wrapped cheese on basil, and the mini quiches were all excellent.
But the proposed stars of the night (the drone racers on team Tiny Whoop) were as hard to find as a good Dew drink. Maybe it's a personality thing, or maybe it's just the nature of drone racing, but the "athletes" are easy to miss when they don't have their headsets on. They looked liked the other Dew-drinking dudes. They had not yet learned to carry themselves with swagger or play to an audience. After all, it was unclear if they had an audience.
"Naw I don't get nauseous anymore," Jordan Temkin, a pilot for team Tiny Whoop, told me when I asked about the vertigo-inducing experience of flying first person. Temkin was controlling his drone using a video player in the center of the controller. Jesse Perkins, the founder of Tiny Whoop, was beside him with a headset on. "When you're in that headset, you're out of body. With this, I actually get to talk to people." He was pointing to the video screen as he maneuvered his drone around a skater dropping into the halfpipe.
"You're going to want to stand by the DJ booth in about five minutes," a passing Dew rep told me.
Five minutes later Ghostface Killah walked in behind an entourage of black-clad security and took his place, nestled between a crowd dressed like extras in an American Apparel commercial and the bar. The beat blasted behind him while Allyson Toy bobbed her head and threw her arms up. Like me, she hadn't know who the guest celebrity would be. Unlike me, she had a playlist of Wu Tang backtracks ready to throw into her mix. She'd seen this happen before.
The crowd bobbed their heads while a video crew from Now This got the whole thing on tape, even though there were more people in the crowd with their phones out than there were participating every time Ghostface Killah expected an echo to the line "Oh baby, I like it raw."
Somewhere in between the skaters, energy drinks, and the show, Mountain Dew tried to sneak in a panel on the future of drones. On one side was the money, represented by a man who had the facial hair of a Pixar villain. On the other side were the racers, including Temkin, who talked about how drone racing won't be able to make it as a sport until racers are paid enough money to focus on racing full time.
"Being a professional comes when I'm getting paid," Temkin said. "Until we get paid, we're not professionals."
The Ratatouille villain and the rest of team money didn't have a response to that, other than the response that college coaches tell their players. Do it for the love of the game! That may be good advice, but it doesn't pay the bills. Temkin is currently ranked the 18th best drone racer in the United States and for that he gets what exactly? Ask the professional remote control race car drivers, the Ratatouille villain suggested, they don't get paid either. It wasn't exactly uplifting, not until Temkin actually spoke about the sport.
"You throw these goggles on," Temkin said, "and the whole world just opens up to whatever we want to do."
NASCAR drivers make between $1 million and $20 million per year and all the drivers do is turn left. Just as Temkin is 18th in drones, Dale Earnhardt Jr., Mountain Dew's NASCAR driver, is the 18th ranked NASCAR driver. The difference is, Earnhardt Jr. made $23.8 million in 2014. Temkin did not. But he had a good time not making that cash.
Drone racing is still in its infancy, but it already has major deals with ESPN, an enthusiastic announcer named Joe Scully, and enough hype for Mountain Dew to splash out on Ghostface Killah. It seems like to eventually draw in a young crowd and the broadcast could be extraordinarily compelling, Starfox at the Indy 500 stuff.
But that hasn't yet. What has happened is this: Future sponsors have noticed drone racers and started edging subtly toward them, checkbooks firmly in their back pockets. Anyone flying quadcopters towards a payday is gonna run out of battery life, but the rise of the sport seems inevitable even if it is, for the moment, a bit absurd.