'Clock Boy' Ahmed Mohamed Is Suing Irving, Texas
Now living in Qatar, he says that his opportunities to build things have been limited.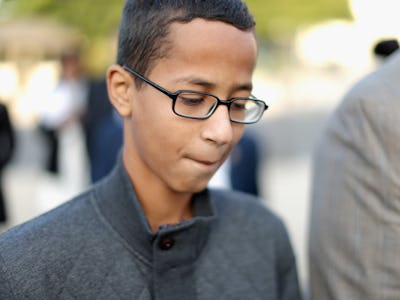 Getty Images / Chip Somodevilla
Ahmed Mohamed is finally taking justice into his own hands, after his former school in Irving, Texas had him arrested over a cleverly designed science project. The "Clock Boy" is now suing the Irving Independent School District, MacArthur High School Principal Daniel Cummings, and the city of Irving.
Last year, then-freshman student Mohamed built a clock to impress his teachers on his first day of high school. After what he says were years of poor treatment from teachers and classmates, the teenager attempted to show off his talents in order to bridge gaps and forge good connections with his educators. He handed his clock — a small digital device built into a silver carrying case — to a teacher, who called the police, allegedly mistaking the clock for an explosive device. Mohamed was arrested and handcuffed. So began a story that caught national attention, prompting an investigation from the U.S. Justice Department and support from President Barack Obama himself.
Now, after relocating to Qatar over concerns for his safety, Mohamed's family is attempting to sue the city over the maltreatment. Mohamed and his father, Mohamed Elhassan, filed the lawsuit on Monday. The suit seeks an unspecified amount of financial compensation, and claims that the defendants violated Mohamed's civil rights and subjected him to widespread criticism and threats.
Mohamed's case has been fraught with litigation from the beginning. Initially, the Irving School district attempted to sue the state department itself to keep the case quiet. The Mohamed family sent a letter to several of the plaintiffs in November, but the lawyer (who no longer represents them) never filed a formal suit. The current formal lawsuit claims that the school system and the state discriminated against Mohamed in violation of the Civil Rights Act of 1964, and violated his constitutional protections against illegal arrest and unequal treatment. No dollar amount has been named as of yet, according to the family's lawyer, Susan Hutchison, who told NBC that the state can decide on totals for the damage.
The family visited local relatives earlier this week with less than stellar news. At a press conference during their visit, Ahmed Mohamed said that he loved America and missed being here in his real home. "I really love the States," said Mohamed. "It's my home. But I couldn't stay … I get death threats. It's a really sad reality of it." What's even more upsetting, says Mohamed, his new home has limited resources for his continued engineering hobby. While his educational chances may be better (and safer) in Qatar, the opportunity to build isn't the same as it was in the States.