What Do You Do in 'No Man's Sky'? Pretty Much Just Chill Out
"For one small moment, you might feel like you've stepped into a sci-fi book cover."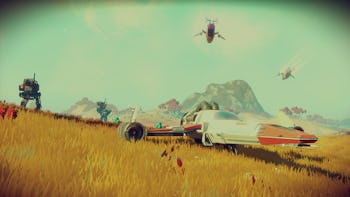 Hello Games
Here's a question that should be easy to answer, but isn't: What do you do in the near-infinite universe of No Man's Sky?
Hello Games' sandbox exploration game isn't a linear game with a clear-cut narrative like Mass Effect, nor is it a collaborative, objective-based online game like World of Warcraft. It's something else entirely, but after several years of development, it's finally going to be released this week. And yet, most people who have played the game already (including myself) have one big question: Uh, what are we supposed to be doing?
Game director Sean Murray says everyone needs to just chill out. Literally, and in the game.
In a new blog post on the game's website, Murray reiterates the main points of No Man's sky: A procedurally-generated universe where you can trade, fight, survive, and live out being an intergalactic scoundrel that only the best sci-fi previously promised.
"[I]t's an infinite procedural sci-fi-space-survival-sandbox unlike anything you have ever played before," Murray writes. "If you decide to play it, you'll see just how closely it plays to those trailers, and to our original vision. It's a weird game, its a niche game and it's a very very chill game." (Emphasis his.)
Murray isn't wrong: No Man's Sky is chill. In the several hours I've spent in the game, I've gotten lost in unexplored worlds, dove into caves for resources and flown in and out of atmospheres. It's easy to get sucked in looking at a gorgeous planet in the distance, and it's legitimately exciting to be able to fly over to that exact planet in mere minutes (if you have the fuel.) It's not a tense game; I've only felt stressed when Sentinels are nearby or when my exosuit's life support systems are dwindling and I'm out of zinc. Other than that, No Man's Sky is one of the most chill games I've ever played.
One point Murray clarifies about No Man's Sky is that it isn't about living someone else's fantasy, as it typically would be in other games with cinematic characters or clearly-outlined plots. Rather, it's about fulfilling whatever your sci-fi fantasies are. Writes Murray: "For one small moment, you might feel like you've stepped into a sci-fi book cover."
Hopefully, players will enjoy writing their own stories.
No Man's Sky will be available on PlayStation 4 and PC on August 9.