Watch the Olympic Games to See the New 'Rogue One' Trailer
There's only one event on Thursday big enough for Star Wars.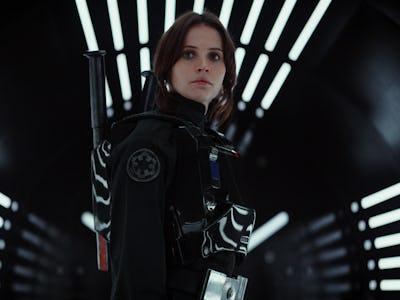 Lucasfilms, Walt Disney Studios Motion Pictures
Star Wars announced on Twitter that fans should be sure to watch the Rio de Janeiro Summer Olympics on Thursday, August 11, for a new Rogue One trailer. The only problem is that the announcement itelf is pretty vague and nobody knows when exactly the trailer will drop.
Lucasfilms released a new 30-second trailer today which cuts shots of Rogue One with scenes from the Rio Olympics. The teaser is hinting at a big new trailer full of new content fans have been waiting for. The only question is: What time will the trailer release on Thursday?
Looking at the schedule of games for day six of the Olympics, there are a few guesses as to which sporting event Star Wars fans should tune in for. With something as high-profile as a new Rogue One trailer, there's no way Lucasfilm will be wasting the opportunity to show off one of the most anticipated movies of 2016 during one of the biggest televised events of year. Luckily, there's only one event that has the right factors of big athletes, high probability of U.S. gold, and prime time slot.
The biggest event on Thursday is arguably the swimming finals. Both Michael Phelps and Katie Ledecky will be swimming that day, with the men's finals airing during the primetime hours of 9 PM to 10 PM EST. As some of the most high-profile athletes will be competing for the gold on that day and time, there's a good chance that Star Wars fans should tune in to watch some of the fastest swimmers in the world race each other in the men and women swim events.
Fans were disappointed when this year's Star Wars Celebration 2016 ended without a new trailer for the upcoming anthology film set in the Star Wars universe. Despite ample looks at the behind-the-scenes action for the making of Rogue One, fans were really hoping for a new trailer filled with plot details, scenes, and characters. This Thursday should provide fans with the trailer they were hoping for.