'No Man's Sky' Day One Patch Changes the Game Completely
A massive update will change the game for people who have an early copy "somehow".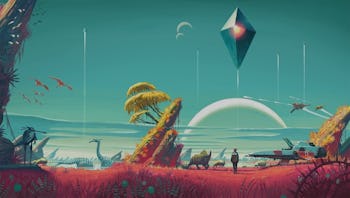 Hello Games
Hello Games' much-anticipated, highly-scrutinized game No Man's Sky is nearing an official release, but not before detailing a day one patch that changes the game dramatically.
No Man's Sky had a difficult week. After rumors that the video game press would not be receiving advanced copies of the game planted worries about the quality of the finished product, an early copy of the game made its way to the streets and sold for $1,300. Soon after video game retailers across the country broke the street date and sold the game to buyers a week early.
The No Man's Sky subreddit exploded with complaints, broken hearts, excitement, and every other spectrum of reactions from fans who have been hungrily anticipating the game for years. The only problem is that many of these impressions are built upon a pre-release version of the game.
These days, it isn't uncommon for video games to launch day one patches that improves the overall user experience for players before they begin playing the actual game. No Man's Sky is no different as Hello Games' founder Sean Murray posted an update on the company blog detailing the Update 1.03 day one patch for the game.
Murray writes that after the game was completed five or six weeks ago, the team began working on updates and improvements to the game. The patch they were developing was supposed to go live once the game released officially, but the severe leak of the game to consumers tarnished the game's reputation for thousands of players.
And the updates included in the patch are no laughing matter. Murray explains that while gamers who already have the game "somehow" can still play their current save file, they will be missing out on a lot of early game content that will be added with the patch. This includes something called "The Three Paths" which are unique "paths" the players can follow and will dramatically impact the game's progression.
Aside from the new narrative additions are loads of technical changes that range from planet generation and placement to diversity in species, tools, ships, atmosphere and more. Gameplay mechanics like trading, survival, and feeding will also become more strategic and in-depth.
This patch is only the first in a series of planned updates to the game that will introduce mechanics like base building, cloud rendering tech, and more in later patches.
The full list of changes in Update 1.03 can be read here.