Jared Leto Says Joker Film Could Exist, If You're Into That
And he'd want it to be R-rated.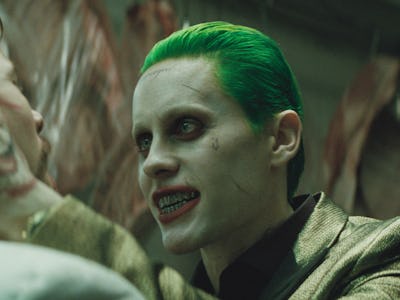 Warner Bros.
Somehow, David Ayer's Suicide Squad made a lot of money in its opening weekend, enough to call it a "success" – but a glance at its 26 percent Rotten Tomatoes score is enough to call it a "bad movie." Yet Jared Leto, who played a grilled and tatted Joker whom many critics didn't like very much, is saying there's enough footage left in the editing room to create a solo Joker movie.
While on the promotional tour for Suicide Squad, Leto explained to Edith Bowman of BBC Radio 5 that he provided ample material "to give a lot of options" for the filmmakers.
"I think there's probably enough footage in this film for a Joker movie," said Leto. "If I were to die tomorrow, maybe the studio would roll something out. Rated R or rated X performance in there somewhere."
While that specific scenario is unlikely, Leto has hinted he's attached to multiple appearances as the Joker while Warner Bros. amps up its DC cinematic universe. On a recent appearance for Good Morning America, Leto said Suicide Squad is just "an introduction to the Joker" and he's "hopeful that we will see more to come."
Suicide Squad is out now in theaters.