The Real Letdown Wasn't 'Suicide Squad', but 'Nine Lives'
'Suicide Squad' had every chance for success despite poor reviews.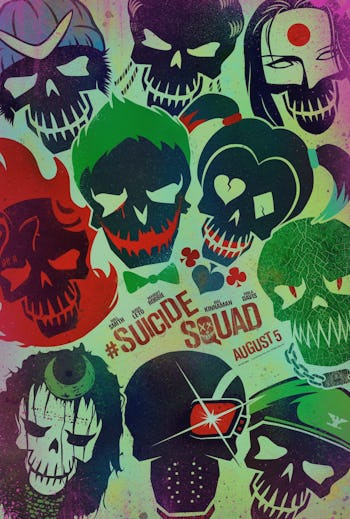 DC Entertainment, Warner Bros. Pictures
Despite a massive critical panning that gave DC's Suicide Squad a 26 percent rating on Rotten Tomatoes, the film opened to a record-breaking weekend. But was there ever any real chance the film would fail?
The question wasn't whether or not Suicide Squad was going to bomb, but how badly negative reviews would impact sales. Despite the reviews, the film is projected to earn anywhere between $145 million to $150 million across 4,255 theaters this weekend. The film did however see a 41 percent drop in traffic over each subsequent day. The traffic drop didn't stop the film from becoming the biggest August opening, beating out Marvel's Guardians of the Galaxy (2014) and its $94.3 million August debut.
In fact, by nearly all metrics except reviews, Suicide Squad is a success. The film scored a "B+" CinemaScore, compared to Batman v Superman: Dawn of Justice's "B" score. The film performed strongly across a variety of demographics, including women. Though that shouldn't really be a surprise considering the film boasted a cast which includes Margot Robbie as Harley Quinn, Viola Davis as Amanda Waller, and Cara Delevigne as Enchantress. Also, the popularity of superhero films across both male and female demographics. Lastly, the film is performing very well in 57 global markets, including the UK and Mexico.
The film's marketing campaign also dominated pop-culture news leading up to its release, including a large presence at this year's San Diego Comic-Con. The film's been consistently buzzing throughout the year, with set leaks and Jared Leto's "Joker pranks" getting noticeable attention in the media.
Really, it's rare for a superhero film to actually "fail" in this day and age. The film's success this weekend was placed against a narrative of bad reviews and excessive studio meddling with the critically disappointing DC Cinematic Universe. But with a large marketing budget, popular stars, and a film that is genuinely different than the previous two DC films, Suicide Squad had every chance at making a big opening.
Meanwhile, the biggest disappointment might be Kevin Spacey's Nine Lives. The film stars the academy-award-winning Spacey as a man who becomes trapped inside a cat's body. Negative reviews and a "B+" CinemaScore, same as Suicide Squad's, has the film projecting a $6-$7 million opening for a sixth place opening. Not even the cult appeal of such a strange concept, with a cast that includes Jennifer Garner and Christopher Walken could make the film a surprise success.
The rest of the box office is populated with the dominant films from previous weeks, including: Jason Bourne, Bad Moms, Secret Life of Pets, and Star Trek Beyond as the top four films this weekend coming in behind Suicide Squad.