No One Cares About 'House of Cards' Season 4. Watch 'Nine Lives' Instead.
The Kevin Spacey, Christophen Walken, and Jennifer Garner starring computer-animated-cat comedy is impacting this summer, like a bolt from the blue.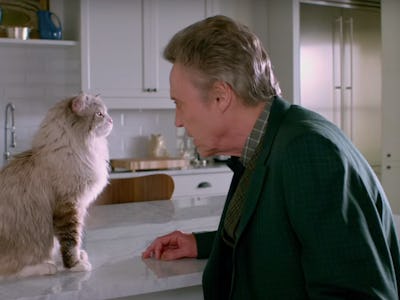 "Thousands called him the most powerful man in the world … and now they call him … Mr. Fuzzypants!"
This is the climactic phrase in the opening voiceover for the trailer for Nine Lives. No, not the 2005 introspective ensemble drama Nine Lives starring Amy Brenneman and Glenn Close, the brand meowin' new 2016 man-stuck-inside-a-CGI-cat's-body film starring Kevin Spacey, Jennifer Garner and… Christopher Walken.
"You haven't been there for your family. You're gonna be stuck inside this cat … until you make things right," says Walken to Cat Spacey in his beloved, halting cadence, as some other non sequitur slapstick clips are intercut.
We don't quite know from where Spacey's character's curse arose, but we can definitely appreciate the irony of this stentorian, evil businessman's situation. "But I HATE cats," the actor who plays Frank Underwood, Lester Burnham, and the serial killer in Se7en whines to Christopher Walken, clad in green suit and hairpiece.
Don't ask us to pay no attention to the man behind the curtain. … Who's in charge here? Who let things go off the rails? Look no further than French production company EuropaCorp and Barry Sonnenfeld, the cinematographer behind Miller's Crossing and Misery, but also — somehow — the director of every Men in Black film, RV, and now, Nine Lives.
This new "film" is due in out August in theaters everywhere.