Margot Robbie and Cara Delevingne's 'Suicide Squad'
The villainesses of Suicide Squad are headed down very different career paths.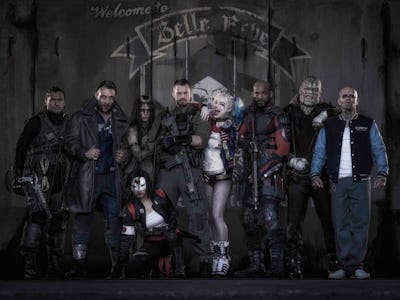 The set of Suicide Squad looks like a rioting youth club. Spotted in leaked photos and videos, along with the usual social media teases from its leading cast, the production of DC's antihero showcase has encouraged its main players to embrace their onscreen counterparts. Jared Leto sent his co-stars gifts the Joker would deem funny while Margot Robbie took up the buzzing pen to ink her Squad mates with permanent reminders of the shoot. The latter was an albeit more dedicated approach to method acting — along with her impromptu skin artistry co-star Jay Hernandez posted a snap of the actress holding a "Harley's Tattoo Parlour" sign. While smiling maniacally just like Harley.
Robbie is still a newcomer to the industry, with only a handful of high-profile credits to her name since departing her native Australia. Following a supporting part in Brit rom-com About Time she broke out in The Wolf Of Wall Street, giving Leonardo DiCaprio a run for his money as Jordan Belfort's manipulative spouse. Every role since has landed her heaps of praise for her committed portrayals, partly because the upside to only possessing a very small number of credits is not getting typecast. She's simply not had enough work for that to occur. Instead, she's snagging plaudits left, right, and center. Hitflix even rewarded her performance in post-apocalyptic drama Z For Zachariah by calling her "one of the very best actresses in her age range today. "
Whether she's a tacky Brooklynite or a harried survivor, there's definite whiffs of method to her process. That particular mode of acting involves the type of dedication to a realer-than-real performance that causes your stock to go up, along with your chances of bagging an Oscar. Her varied resume itself serving as proof of how serious she takes her craft. There's comic book movies, heavyweight dramas, sci-fi yarns… and that's with only three years on the scene. She's the definition of a meteoric rise.
And while Robbie has been popping up all over the place, expanding her repertoire, her Suicide Squad co-star Cara Delevingne is taking a different tack to acting. She couldn't give a fuck about being a 'proper actor'. Or for that matter, a movie star. For us happy observers outside of the acting sphere, it seems as if every actor harbors a desire to be taken seriously. To be offered a variety of roles, knock them all out of the park and lap up the fame and acclaim.
Delevingne is a supermodel first and foremost, in case you hadn't been paying attention to the cultural conversation. A career that's given her financial security to see her through to the leathery end. She earns roughly $11,000 a day, gobbles up tons of parts in movies that struggling actors would kill for and then behaves nonchalantly about all of those opportunities. Her flippancy could be a product of being a lucky youngster whose success has hinged on her good looks - but she seems too smart for such obviousness. At this stage in her screen career, it's uncertain whether her acting talent will propel her forward like Robbie, who straddles the line between movie star and serious actor.
That hideous interview with Good Morning Sacramento ended up working in her favor. It painted her as a real person — and one I never knew was a brilliantly sarcastic Brit — who didn't pander to rude, moronic news anchors. That one press incident probably did more for her acting career than Paper Towns, the film she was promoting, did across its entire theatrical run.
She's since delivered more interviews in support of the John Green adaptation. It's clear that her droll reaction to the highly professional GMS news team was the response their baiting deserved, as she continues to come across as funny, intelligent, and courteous when interviewed by actual humans. Her Instagram seemingly confirms this, an endless evidence stream of youth without any boundaries whatsoever. Fun for Delevingne has no price tag and she's got several worlds at her feet. While Robbie's movie career is destined to continue, Delevingne would probably be just fine if hers stopped today.