Christopher Nolan's WWII Movie 'Dunkirk' Looks Intense AF
The artful clip sets a somber, dark tone for the filmmaker's 2017 summer drama.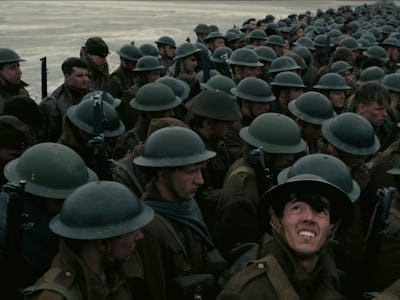 YouTube
Filmmaker Christopher Nolan is in an enviable position. He made movie studio Warner Bros. a few billion dollars a couple of times over with the still-incredible Dark Knight Trilogy and now, he can basically do whatever he wants. Apparently, what Nolan wants is a gritty, washed out World War II movie.
After The Dark Knight Rises, Nolan turned to the personal space epic Interstellar in 2014. Since then, we haven't heard much from him, but it looks like he's launching himself back into Oscar contention with the decidedly more grounded World War II drama Dunkirk. Our first look at the film is an unbelievably gorgeous new teaser, which already could make it one of the most anticipated films of 2017.
Nolan shot the film using IMAX cameras, his preferred large film format, and it looks to be the right decision. The beautiful landscapes of the French beachside are contrasted with the film's brutal subject matter: the 1940 evacuation of British troops trying to escape Nazi-occupied France.
The somber trailer — whose only sound is the tide, the ticking of a clock, and an unseen incoming German bomber — sets an artful tone to what will most likely be one of Nolan's biggest films yet.
Take a look at the teaser below:
The film also stars an impressive amount of British and Irish actors like Tom Hardy, Kenneth Branagh, Harry Styles, Cillian Murphy, Fionn Whitehead, Aneurin Barnard, James D'Arcy, Jack Lowden, Barry Keoghan, and Tom Glynn-Carne.
While the clip is stunning even as a 1080p YouTube video, rumor is that you can get a look at the teaser on the big-screen in front of the release of Suicide Squad this weekend.
Dunkirk opens in theaters July 21, 2017.