Photos from 'Dunkirk', Christopher Nolan's WWII Movie, Surface Online
The director's World War II ensemble drama has begun shooting in France, for a 2017 release.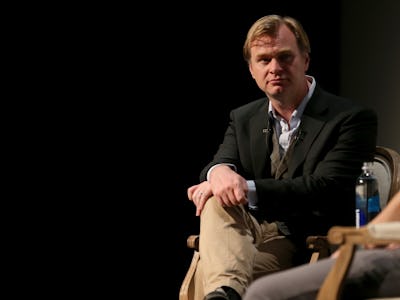 Jemal Countess / Getty
Director Christopher Nolan's latest film, a World War II drama titled Dunkirk, has begun shooting in Dunkirk, France. A press release from Warner Bros. has confirmed the news of the production's start, and some set photos from French photographer Pierre Volot have surfaced on social media, showing the director at work.
Per the Warner Bros. press release: "Dunkirk opens as hundreds of thousands of British and Allied troops are surrounded by enemy forces. Trapped on the beach with their backs to the sea they face an impossible situation as the enemy closes in."
According to a Variety exclusive in December, Nolan's ensemble drama will shoot in "many of the real locations of the true-life events, which form the background for the story. The movie will tell the story of Operation Dynamo, the 1940 evacuation of hundreds of thousands of Allied troops from advancing German forces that had invaded France."
So expect Dunkirk to Nolan's version of Titanic – at least, in that the story is about a small group of people caught up in a global event. The movie will also shoot in Holland, the U.K. and Los Angeles before production wraps.
Check out Volot's set photos below:
Nolan's always stressed practical effects — even on his biggest budget movies like The Dark Knight Trilogy or Inception — to make his films as realistic as possible. He looks to be using the existing locations and adding in a lot of set detail.
Dunkirk stars Nolan regulars Tom Hardy (Inception) and Cillian Murphy (The Dark Knight Rise, Inception), and also stars recent Academy Award-winner Mark Rylance (Bridge of Spies), and Kenneth Branagh (Cinderella). It'll also mark the big-screen debut of One Direction member Harry Styles.
The film will be shot on both IMAX 65mm and 65mm large formats and is set for release on July 21, 2017.
The city resurfaced in the news this year after a modern international conflict: France's first-ever internationally recognized camp for refugees fleeing war in Syria, Iraq, and Iran, opened, welcoming thousands.