Christopher Nolan's New Movie Gets a Release Date, Nothing Else
But we can kind of predict what it will be about.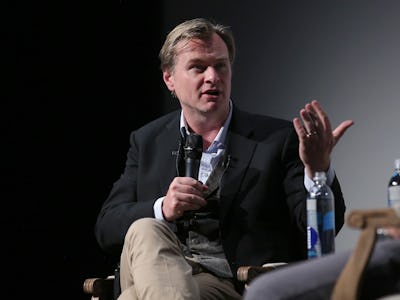 Getty Images
Only the Hollywood in-crowd knows what Christopher Nolan's next movie will be about, but outsiders now know when they'll get to see it. After receiving word that a script was completed in July, Nolan's longtime movie studio partner Warner Bros. has announced his new, as-yet-untitled film — his first feature since 2014's Interstellar — will hit theaters on July 21, 2017. Haters and fanboys alike can mark their calendars right now.
In keeping with the normal secrecy with potential Nolan blockbusters, the studio provided no details about the film — not even a logline. But we do know that the July release date puts it into competition with Pitch Perfect 3 and French director Luc Besson's sci-fi epic Valerian and the City of a Thousand Planets before the new Marvel-approved Spider-Man movie bows on July 28.
At least when Inception was first announced, Warners included the cheeky press release description that the movie was "A contemporary sci-fi thriller set within the architecture of the mind." We even had a general idea of what Interstellar was going to be like since it was first developed by Steven Spielberg from the theories of theoretical physicist Kip Thorne before Nolan took the reins. But here we get bupkis, which is probably exactly how Nolan wants it.
More specific details should come soon enough, but we don't have to wait that long to get a sense for what the new movie will be. Nolan is as predictable as he is unpredictable. Based on his previous collaborations and directing habits, we can take some sure bets on who will be included in the mix and potentially what it could be about.
Besides having written it himself, he'll probably get his longtime production partner and spouse, Emma Thomas, to produce with him. He may also bring in his brother Jonathan Nolan to polish the script with some non-linear plotlines, which will most likely have a sci-fi slant given his past few blockbusters.
It will probably be an original idea because Nolan usually likes homegrown stories, and if it was based on an existing property that detail would have been included in the release date announcement. The storyline will probably feature a dead wife character, and will have Michael Caine in a supporting role. Hans Zimmer will most likely be the composer of the score, and look for it to be shot on film in big formats like IMAX. If he's not busy making terrible movies himself, Wally Pfister will possibly be the cinematographer, while Nathan Crowley will likely be the production designer.
Obviously the specifics can be swapped out, but one thing is for certain: Nolan's new movie will definitely get people worked up to obsessively weigh in on every single detail. See for yourself when the movie drops in theaters on July 21, 2017.